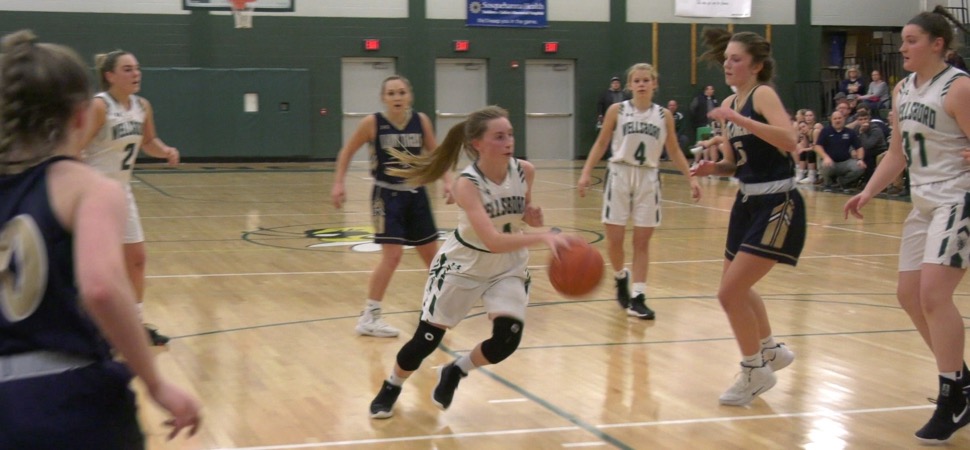 Mansfield 3-pointers down Wellsboro
By: Ed Weaver | NTL Sports | January 21, 2020 | Photo courtesy The Home Page Network
After losing to rival Wellsboro earlier this season, the North Penn-Mansfield girls returned the favor on Monday, January 20 with a 45-30 win.
The Lady Tigers hit 14 field goals on the evening, half of them came from behind the three-point line. Mansfield built up a 13-3 lead with 2:34 left to play in the 1st quarter. Wellsboro added one more bucket to trail 13-5 after the opening 8 minutes. Mansfield increased their lead in the 2nd with a 14-10 run, which included 3 more three-pointers.
Wellsboro made a small run to start the 3rd quarter by outscoring the Lady Tigers 9-7 to pull within 10 points to start the 4th quarter, but Mansfield was able to fend off Wellsboro with an 11-6 run to get their record back over .500.
"It was huge, it was a big win for us," Mansfield head coach Jason Dominick said. "We lost to them at home and didn't play a great game, but it was nice to come here. This is a tough place to play. They are a tough team and are well coached. I'm just really proud of our kids. We executed our game plan and came home with a nice win. Any time you can beat a rival it feels good."
Lizzi Welch had a game-high 15 points to lead North Penn-Mansfield while JoAnne McNamara added 13. Jaime Palmer scored 9 points, Shaelyn Berguson added 6 off the bench, and Hannah Bowens pitched in with 2 points. Welch also added 7 rebounds and 3 steals and McNamara had 6 assists.
Senior Cathryn Brought also scored 15 points on the evening to lead Wellsboro. Freshman Jordyn Abernathy had 6, sophomore Emma Coolidge scored 4, junior Kiyah Boyce and sophomore Emma Brandenburg scored 2 points each, and junior Bailey Monks rounded out the scoring with 1 point.
"Tonight was disappointing," said Wellsboro head coach Maureen Poirier. "We came home with a win last time and tonight I was very confident coming in. However Mansfield executed very well tonight, they shot very well, and they did a great job in shutting down our offense. Last time we beat them in the paint, they shut that down and they shut down Cathryn, a key to our offense. We have to be more confident offensively."
North Penn-Mansfield won the JV game 22-17. Freshman Ella Posada had a team-high 11 for Wellsboro.
The win improves North Penn-Mansfield's record to 8-7 (3-6 NTL Small School Division) while Wellsboro falls to 5-7 (5-4 NTL Large School Division). Both teams are back in action on Wednesday night, as Mansfield travels to Canton and Wellsboro hosts Williamson.