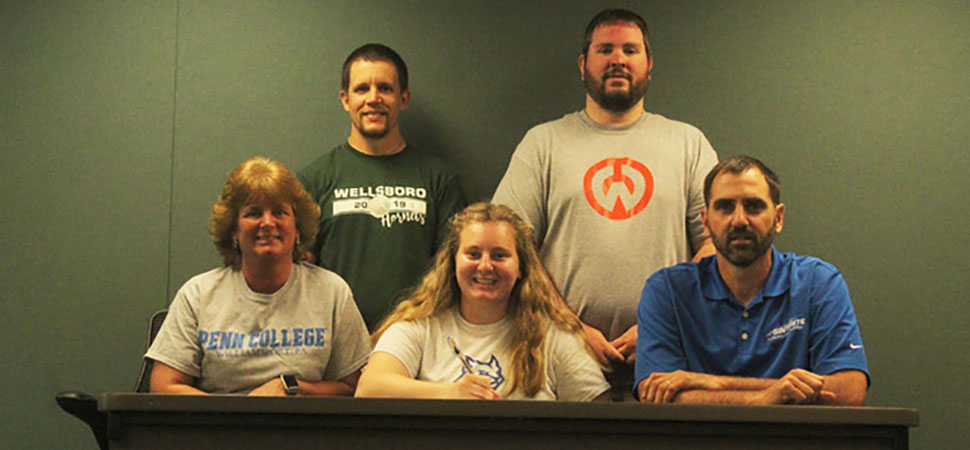 Macensky joins Penn College Tennis team
By: Ed Weaver | NTL Sports | June 11, 2020 | Photo courtesy Nick Coyle
Senior Georgia Macensky announced that she is joining the tennis team at the Pennsylvania College of Technology on Thursday, June 11.
Macensky was a four-year starter for the Lady Hornets in both singles and doubles play where she racked up 51 total career wins. In her senior year she tied for the team lead in singles with a 10-2 record, outscoring her opponents 70-36 in the 1st set and 59-32 in the 2nd set, and accumulated an team-leading 7-2 record in doubles. Over her career Macensky outscored her opponents 211-140 (1st set) and 206-133 (2nd set) in singles and 146-111 (1st set) and 206-133 (2nd set) in doubles.
"I'm very proud of Georgia for continuing her tennis career at the collegiate level. She worked hard on her game during our fall season and over the winter in order to be ready to play when her season begins," head coach Andy Borzok said. "I had a good time getting to know Georgia and her teammates this season. I appreciate the fact that Georgia was willing to have someone new come in and make some adjustments to her game. Over the course of the season, I saw her begin to have more confidence in her strokes and that translated to some convincing wins on the tennis court. She should be able to build on that confidence next season as she moves up a level and has the opportunity to play for a new coach."
Macensky will major in Residential Construction Project Management while attending Penn College.
"I knew I wanted to go for that and they have a good program. It was between there and somewhere in Florida and I decided to stay close to home."
Macensky also liked the "close-knit" campus.
"I liked the fact that all my classes will be around the same area and that campus isn't huge and in a super-packed area."
Macensky's father, and Wellsboro head golf coach Steve Macensky, is also very proud of his daughter.
"I'm extremely proud of her for picking her school based on her future goals and being able to continue playing tennis for that school is a really nice bonus," he said. "She has played sports all her life and being able to continue in college shows her hard work has paid off."
Before starting high school Georgia had never played tennis but started with help from her dad.

"Georgia knew nothing about tennis even the summer before her freshman year. I helped her as much as I could but anyone who coaches their own daughter knows it can be a challenge at times. Tennis was the one sport she enjoyed practicing the most and the one sport she saw the best results. The rest she did all on her own with help from her tennis coaches."
Macensky might be in her 5th year of competition but she has goals set for this fall at Penn College.
"I really want to be in the starting lineup freshman year. One of my favorite memories from this past year was getting a new coach and having him help me get better to play in college."
WellsboroAthletics.com would like to congratulate Georgia on continuing her academic and athletic careers at Penn College.