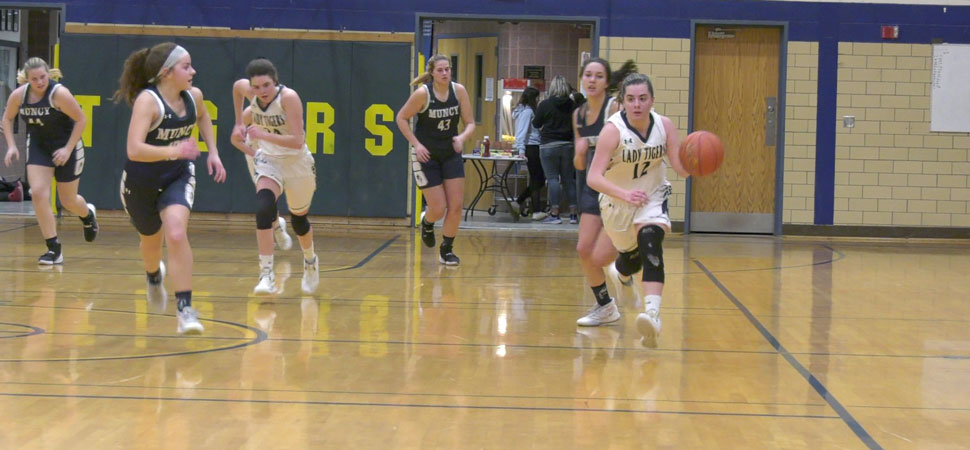 Lady Tigers falls to Muncy in District playoffs
By: Ed Weaver | NTL Sports | February 19, 2020 | Photo courtesy The Home Page Network
For three quarters North Penn-Mansfield Girls Basketball team kept pace with Muncy. It was the 4th quarter that was the difference maker in a 49-39 loss on Tuesday, February 18.
"We got into a little foul trouble. In this game we had 4 kids foul out, you typically don't have 4 kids foul out, so the game was pretty physical," Tiger head coach Jason Dominick said afterwards. "They made a ton of free throws down the stretch, that's what stretched the game out. If you're going to have teams shoot 15-20 free throws in a quarter you're not going to be successful. I will say I'm super proud of the kids, we dind't quit. Our kids battled and they didn't stop. They fought until the end but Muncy is a good team so I wish them luck."
Mansfield started out with an early lead on a 3-pointer from Lizzi Welch, but early foul trouble would force Coach Dominick to go to his bench. The Lady Tigers held Muncy's offense in check through the first 3 quarters, trailing 14-13 after the 1st, 25-23 at the half, and 31-29 after the 3rd. The 4th quarter was a different story as the Lady Indians broke open their two-point lead, while getting Mansfield into further foul trouble. At the end of the game 4 Lady Tiger starters fouled out while Muncy went to shoot 39 foul shots, 18 of which came over the final 8 minutes.
Jaime Palmer led the Lady Tigers, and all scorers on the night, with 16 points. Welch finished with 8, JoAnne McNamara scored 6, Shaelyn Berguson added 5 off the bench, and Hannah Bowens rounded out the scoring with 4 points and added 5 rebounds.
Bell Hitesman led Muncy with 13 points.
The loss ends the Lady Tigers' season with a 14-10 overall record and a 2nd place finish in the NTL Small School Division (9-7). Muncy faces top-seeded Mount Carmel in the semi-finals at a place and time to be determined.