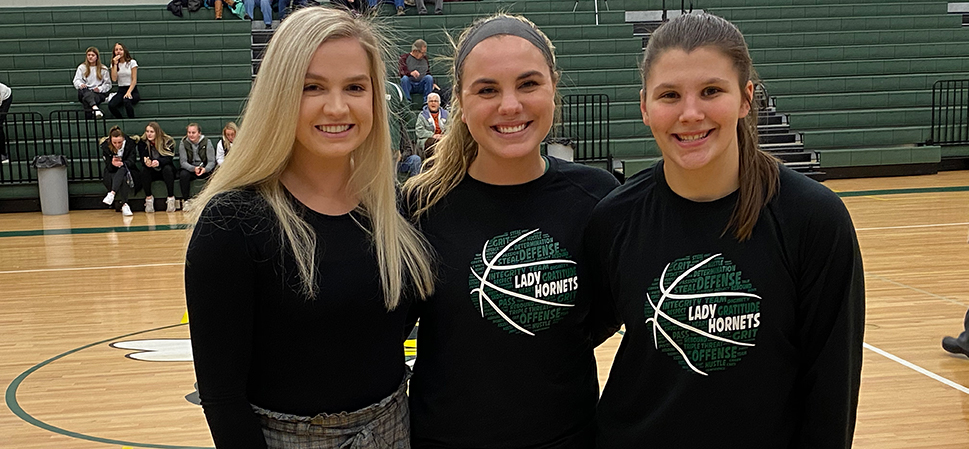 Lady Hornets win big on Senior Night
By: Ed Weaver | NTL Sports | February 13, 2020 | Photo courtesy Ed Weaver
The Wellsboro Lady Hornet Basketball team rolled to a big 44-20 win over Troy on Senior Night on Wednesday, February 12.
"Tonight we recognized and celebrated our seniors," head coach Maureen Poirier said. "Brie and Cathryn have been two very dedicated players the last 4 years. Brie never gave up and always had a great attitude. Cathryn's success and leadership will be tough to replace next year. Unfortunately, injury ended Lauren's basketball career early. We were lucky to have her assist on the sideline this season.
"I have no doubt these three ladies will be success in their future adventures."
The win also qualified the Lady Hornets for the District IV Class AAA playoffs.
"Tonight was a key win for us," Poirier continued. "The win qualifies the team for district playoffs. The girls have battled all year to get to this point. I am very proud of the tremendous improvement this team has made since November."
Wellsboro put the game away early as they held Troy to just 2 points in the 1st half, while scoring 23 to build a 21-point lead. Troy managed to outscore Wellsboro 11-9 in the 3rd but were held to just 7 points over the final 8 minutes.
Senior Cathryn Brought led all scorers with 17 points, sophomore Emma Coolidge had 9, and junior Bailey Monks scored 8. Freshman Jordyn Abernathy pitched in 4 while freshman Rylie Boyce, sophomore Emma Brandenburg, and Tuttle all added 2 points each.
Sudney Taylor led Troy with 10 points.
The win improves the Lady Hornets' record to 11-10 (10-6 NTL Large School Division) before they face Jersey Shore later this evening in their final regular season game.