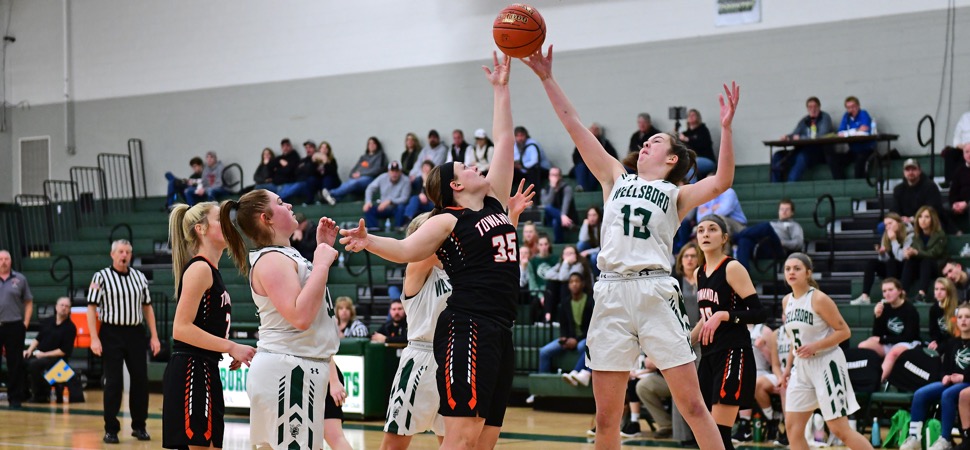 Lady Hornets fall to Towanda, 59-50
By: Ed Weaver | NTL Sports | January 15, 2020 | Photo courtesy Wendy Snyder
The Wellsboro Varsity Girls Basketball team dropped their 2nd straight game in a 59-50 loss to Towanda on Tuesday, January 14.
"You take away the the first three minutes of the game and the outcome of the game might would have been different," head coach Maureen Poirier said. "This team continues to amaze me. They never give up and continue to improve every game."
The Lady Black Knights got off to an early 6-0 lead and had the Lady Hornets pinned down 21-10 at the end of the 1st quarter, but Wellsboro battled back and went on a 19-10 run in the 2nd to pull within two, 31-29 at halftime. A 15-4 3rd quarter in favor or Towanda pushed the lead back up to 46-33, but again Wellsboro made a run in the 4th quarter.
The Lady Hornets outscored Towanda 17-13 in the last quarter but were unable to make up the deficit from the 3rd.
Senior Cathryn Brought led Wellsboro with 19 points, sophomore Emma Brandenburg had 8, juniors Bailey Monks and Kiyah Boyce along with freshman Jordyn Abernathy all scored 6 points each, junior Sarah Mosher finished with 3 points, and sophomore Abbye Cavanaugh rounded out the scoring with 2 points.
Porschia Bennett led Towanda, and all scorers on the night, with 20 points.
Towanda won the JV game 23-13. Brandenburg had 4 points to lead Wellsboro.
The loss drops the Lady Hornets' record to 4-6 (4-4 NTL Large School Division). The team is back in action Thursday, January 16 at Wyalusing.