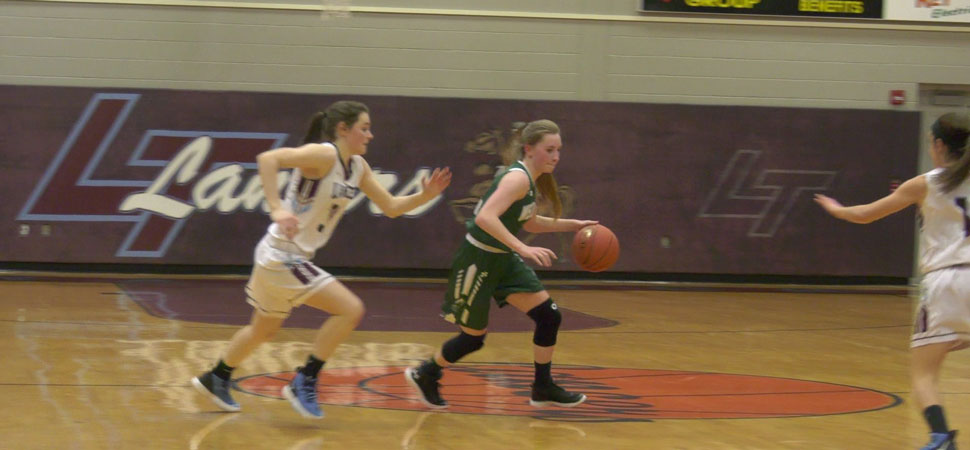 Lady Hornets fall to top seed Loyalsock
By: Ed Weaver | NTL Sports | February 22, 2020 | Photo courtesy The Home Page Network
In a 1-8 match up in the opening round of the District IV Class AAA girls basketball playoffs, the Loyalsock Lancers defeated Wellsboro 66-28 on Friday, February 21.
"We knew going into tonight"s game it was going to be a battle for the girls," said coach Maureen Poirier. "Sock is an experienced team with a deep bench and puts in a tremendous amount of time in the off season. I am proud of the effort and improvement this group of girls have demonstrated all season."
The Lady Hornets struggled with the Lady Lancers' early pressure and found themselves in an early 10-2 hole just over two minutes into the game. Loyalsock extended their lead to 15-2 midway through the quarter then went on to lead 23-7 after the opening frame. Wellsboro continued to struggle in the 2nd and found themselves trailing 40-15 with just over two minutes remaining and 43-17 at the half.
Loyalsock kept up the pressure in the 2nd half as they held Wellsboro to just 11 points and enacted the mercy rule late in the game.
Senior Cathryn Brought led the Lady Hornets with 12 points while juniors Sarah Mosher and Bailey Monks had 4 points each. Junior Kiyah Boyce, sophomores Emma Coolidge and Emma Brandenburg, and freshman Jordyn Abernathy all added 2 points each.
Summer McNulty led all scorers with 21 points.
The loss ends the Lady Hornets' season with an 11-12 record.
Brought led the team in scoring on the season with 401 points and shot 0.776 (118-for-154) from the foul line. Monks finished with 163 points on the season, Coolidge scored 161 points, Abernathy finished with 98, and Boyce rounded out the top 5 scorers with 60 points.
Brought concludes her career with 799 points, 45 made three-pointers, and shot 0.721 from the foul line (194-for-269) and senior Brieanna Tuttle finished the year, and her career, with 8 points, 7 rebounds, and 3 steals.
"For Brie and Cathryn, tonight is tough because it ends their high school basketball career," continued Poirier. "These two girls have been two of the most dedicated players from this team. I wish them a future full of success and happiness. They will be missed next season."