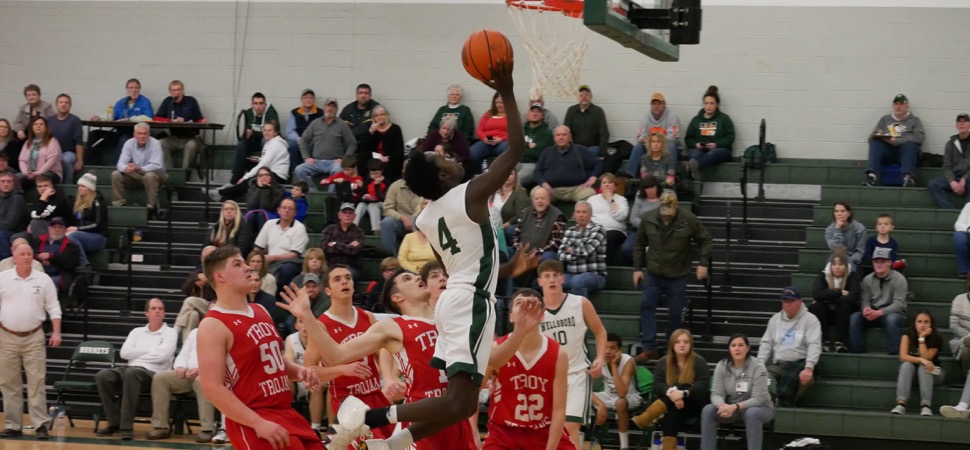 Hornets upset Troy, 67-60
By: Ed Weaver | NTL Sports | January 17, 2020 | Photo courtesy Dr. Robert Bair
The Wellsboro Varsity Boys Basketball team scored a 67-60 upset over the visiting Troy Trojans on Friday, January 17.
Wellsboro, #4 seed in the NTL Large School Division handed the Trojans, #2 seed in the NTL Large School Division, just their 2nd league loss on the season after a 32-minute battle at Wellsboro. Both teams were evenly matched on the evening, with the Trojans edging Wellsboro 17-13 after the opening quarter.
Wellsboro rallied in the 2nd quarter to outscore Troy, 15-11, to tie the game up at 28-all at halftime. As the 3rd quarter started Troy jumped back in front of Wellsboro thanks to their offensive rebounding creating second and third-chance shot opportunities. Again though the Hornets fought back to tie the game up at the end of the quarter.
Both teams swapped the lead in the 4th quarter with neither team leading by more than 5 or 6 points. Wellsboro had a 6-point lead with under 3 minutes to go when a Nick Williams' 3-point shot cut the lead in half. The Hornets maintained their lead and extended it to the 7-point margin as the Trojans were forced to foul to try and conserve time to get back in the game.
"We battled for four quarters and executed well in the final 4 minutes," head coach Steve Adams said.
Junior Joseph Grab led all scorers with a game-high 29 points while sophomores Liam Manning (15) and Isaac Keane (13) were also in double-figures on the evening. Sophomore Darryn Callahan scored 7 and freshman Conner Adams chipped in 3 points. Manning finished with 12 boards for a double-double, Grab finished with 8 rebounds and 3 assists, and Callahan added 9 rebounds and 2 steals.
Mason Imbt (18) and Ty Barrett (16) led Troy.
Wellsboro started out the night with a 40-30 win in the JV game. Sophomore Ryan Sweet was the high scorer with 12 points.
The win improves the Hornets' record to 9-6 (6-3 NTL Large School Division). The team is back in action on Tuesday, January 21 at rival North Penn-Mansfield.