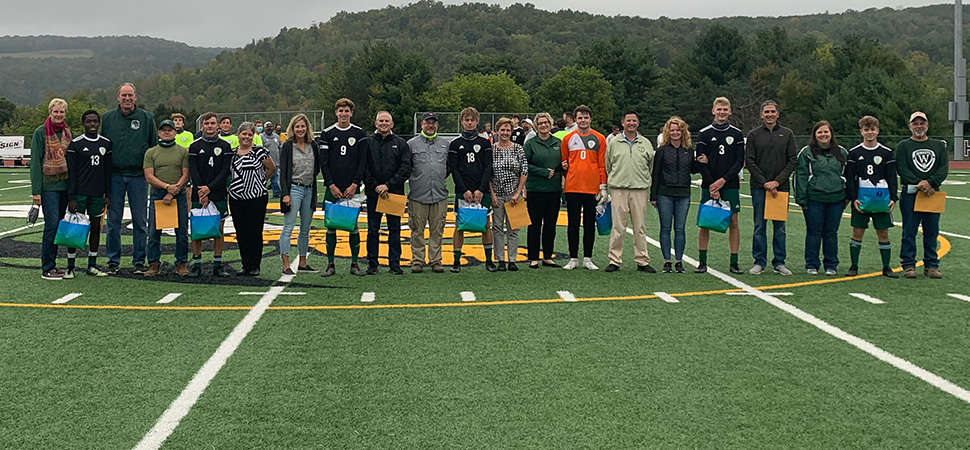 Hornets cruise past NEB on Senior Night
By: Ed Weaver | NTL Sports | September 18, 2020 | Photo courtesy Jeremy Byrd
The Wellsboro Boys Soccer team rolled to a 12-2 win over Northeast Bradford for Senior Night on Thursday, September 17.
"It has been a long wait with many uncertainties on this journey to the season opener," said head coach Todd Fitch. "I was pleased with how quickly the boys found a rhythm and flow and were able to take control of the match. We were able to give everyone some quality time on the field, which was rewarding following their persistence through the summer and extended preseason."
The Hornets scored early and often as they poured on five first period goals to build a comfortable lead.
Senior Will Poirier scored 4 goals on the evening and added 2 assists. Senior Kaeden Mann also scored a hat trick and moved into 3rd place all-time with 61 career goals, surpassing former teammate Tanner Runyan. Senior Joseph Grab added a pair of goals while senior Zach Singer, junior Owen Richardson, and sophomore Jack Poirier all added individual goals.
Senior Ethan Ryan made 3 saves in goal.
The win starts out the Hornets' 2020 season with a 1-0 record. The team is back in action on Saturday, September 19 at Towanda.