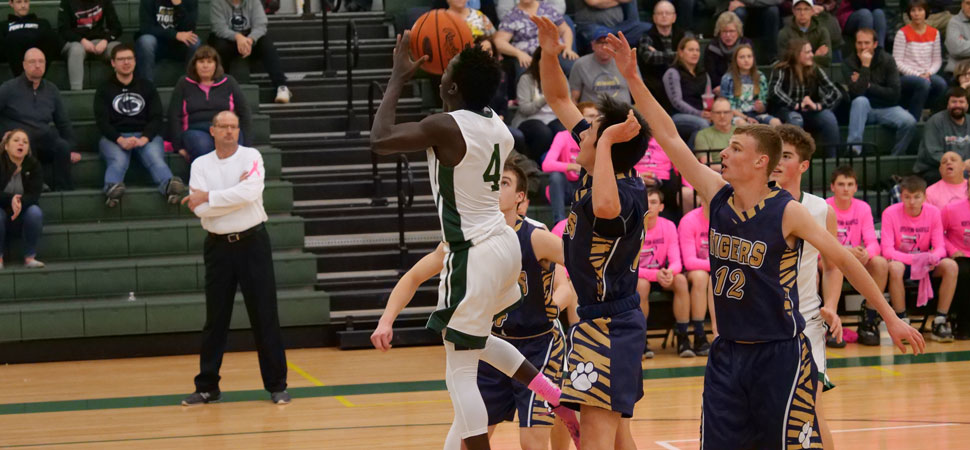 Grab's career-high leads Hornets past Mansfield
By: Ed Weaver | NTL Sports | February 2, 2020 | Photo courtesy Dr. Robert Bair
A career-high 39 points from junior Joseph Grab led the Wellsboro Varsity Boys Basketball team over rival North Penn-Mansfield in the "Hoopin' for a Cure" game in Wellsboro on Saturday, February 1.
Grab's point total ties him for 4th all-time in Wellsboro Boys Basketball history alongside Phil Hickey (Warrior Run 1992) and Mike Burns (Galeton 1960), while only trailing Craig Litchfield (48), Dustin Smith (Cowanesque Valley 1998) with 45 points in a game and Bud Albee (North Penn 1983), Ed Cook (vs Williamson in 1969), and Burns (Williamson 1960) with 40.
Early on the game was back and forth as the Hornets scored off the open tip-off then Mansfield answered back on a three-pointer. Mansfield held a slim two-point, 21-19, lead after the opening quarter but the Hornets fought their way back in the 2nd quarter to retake the lead. Wellsboro outscored Mansfield 14-10 in the quarter to lead 33-31 at the half. That lead wouldn't last long, however, as the Tigers outscored the Hornets in the 3rd quarter, just like in the team's previous meeting.
Unlike their last meeting, the Tigers didn't just tie the game but they went on to build an 8-point lead after the 3rd quarter. Mansfield hit nine shots from the floor to score 21 points, while they held the Hornets to just 11 points, to lead 52-44. Of Wellsboro's 11 points, Grab had 10 of them.
After Mansfield's 21-point 3rd quarter the Hornets put together their own 21-point quarter, and held the Tigers to just 7 points. Four early points by sophomore Isaac Keane cut the Tigers' lead to 52-48. Then Grab took over. With 4:15 remaining Grab tied the game at 52 then later gave the Hornets the lead as he went up and over two Tiger defenders with 1:48 left to play. Mansfield began fouling on Wellsboro's ensuing possessions, but both Grab and Keane knocked down the shots to give the Hornets a 65-59 win.
Grab and Keane combined to make 11-of-12 foul shots in the quarter, and Grab hit 17-of-18 for the game.
"When you're up 8 heading into the 4th quarter you don't expect a 10-0 run or someone outscore you 21-7," said Tiger head coach Kipper Burleigh. "Give credit to Wellsboro they made the plays, they made the shots, we couldn't keep Joe out of the paint. Credit those guys, they made the plays and overcame the obstacle they had in front of them."
"Being down going into the 4th quarter, we've been in that situation before and haven't always come out on top but we made some good decisions on the offensive end and I think our defense finally picked up where it needed to be in the 4th quarter and when Joe shoots 17-of-18 thats phenomenal," Hornet head coach Steve Adams said.
Grab's 39 led all scorers on the evening while he added 4 rebounds and 2 assists. Keane finished with 10 points, senior Ty Morral scored 7 off the bench, sophomore Liam Manning had 4, sophomore Darryn Callahan added 3, and freshman Conner Adams rounded out the scoring with 2 points. Manning grabbed 8 rebounds and had 3 steals and Adams and Keane grabbed 5 rebounds each.
Dominic Garverick led North Penn-Mansfield with 22 points, Logan Tokarz and Jacob Evans both finished with 12 each, and and Curtis Craig had 10. Alex Stein rounded out the scoring with 3 points.
Wellsboro started out the night with a 49-38 win in the JV game. Freshmen Peyton McClure (13) and Cameron Brought (11) led the Hornets on the night.
The win improves the Hornets' record to 11-10 (8-7 NTL Large School Division) and qualifies them for the District IV Class AAA playoffs.
"When we started this back in the spring a lot of people said we're not going to make the playoffs and we wouldn't be a good basketball team and these guys stuck together night in and night out," continued Adams. "They became a unit and a very unselfish unit. For us to get into the playoffs its a great accomplishment and they aren't going to be satisfied with just participating they want to go in there and make some noise."
The loss drops the Tigers' record to 10-10 (7-7 NTL Large School Division). Both teams are back in action on Tuesday, February 4 with the Hornets on the road in Towanda and the Tigers hosting Athens.