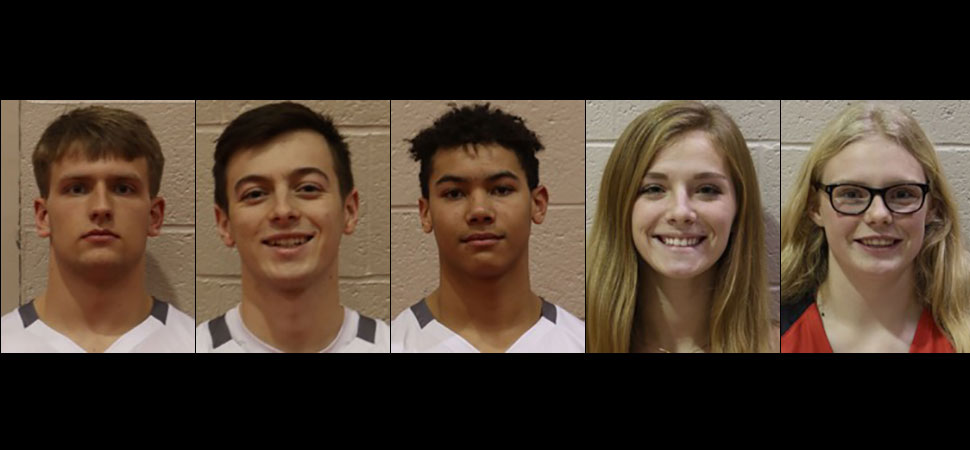 Five Warriors named to NTL All-Star basketball teams
By: Ed Weaver | NTL Sports | April 29, 2020
5 members of the Canton Warrior basketball teams were selected to the NTL All-Star teams on Wednesday, April 29.
For the girls, senior Elle Binford was a 1st team selection while freshman Molly Ward was a 2nd team pick.
Binford led the Lady Warriors in points (263), assists (40), and steals (69) and was 2nd on the team with 9 blocks. She also hit 33 three-pointers and shot .576 (34-for-59) at the foul line.

"Elle was our leading scorer and heart and soul of our team. She will graduate as a 4 year starting point guard, and annual all league selection. There were games this year where she took over and helped us win. It will be very difficult to replace her, and we won't be able to do that with just one player. Would have been close to a 1000 points if she didn't miss games her sophomore year due to injury, but I think it was more of accomplish for the change in our program she has created. We only lose 3 seniors, but they are a valuable 3 seniors."
Ward led the team with 11 blocked shots and grabbed a team-high and NTL-leading 232 rebounds. She also racked up 36 steals and 14 assists.

"Molly was quite the surprise for us, as I watched her in preseason and thought, she's got a chance to be a varsity starter as a freshman, then by end of the year she's pulling in close to 20 rebounds a game. Every game and practice she grew as a player and we developed nice post play with her and Reagan down low. She, along with Aislyn (freshmen varsity starter) gained valuable experience at the varsity level and both have bright futures. If she works on her game in the off-season, and stays healthy she could possibility be 1000 rebounder in her career. Molly is just one of the freshman that made an immediate impact on varsity, but she along with others will help lead this freshman group to success over next few years."
On the boys side Isaiah Niemczyk was a 1st team pick while Ben Knapp and Zach Rentzel were both 2nd team selections.
All three athletes were the top-3 on the Warriors in scoring with Niemczyk leading the way with 344 points, followed by Knapp with 292, and Rentzel with 202. Niemczyk averaged 13.2 points per game to lead Canton and shot .634 (59-for-93) at the foul line. He also grabbed 118 rebounds, made 28 assists, had 51 steals, and blocked 29 shots.
Knapp led Canton with 222 rebounds, lead the team with 41 assists, and blocked 17 shots.
Rentzel had 49 rebounds, had 28 steals, and made 18 assists.

"Isaiah put a lot of time in last off season to get stronger and quicker and it paid off for him this past season. Ben was our emotional leader on the court, his energy and work ethic were leadership traits. Rentzel battled through an injury to recover and have a nice senior season, his leadership will be missed dearly."
View the complete 2019-20 NTL Boys Basketball All-Star team.
View the complete 2019-20 NTL Girls Basketball All-Star team.