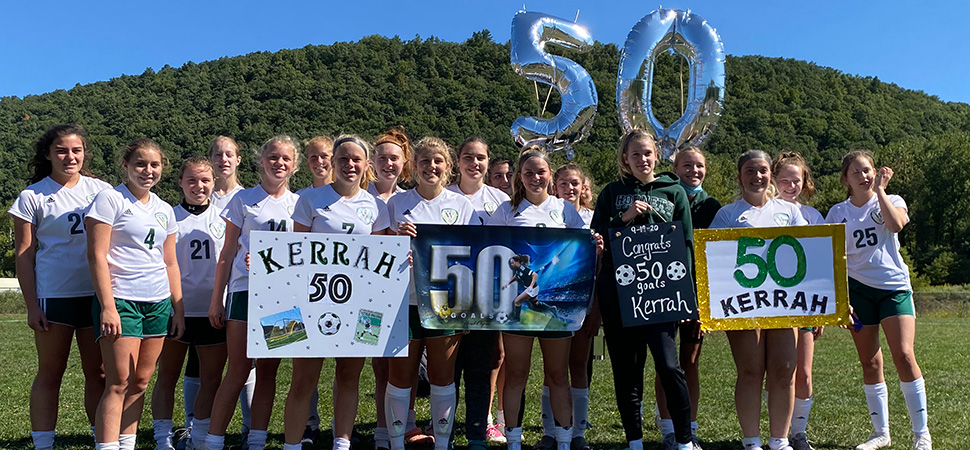 Clymer reaches 50 career goals vs Wyalusing
By: Ed Weaver | NTL Sports | September 20, 2020 | Photo courtesy Cheryl Clymer
Senior Kerrah Clymer became the 3rd Lady Hornet in Wellsboro Soccer history to reach 50 career goals in a 6-1 win over Wyalusing on Saturday, September 19.
"Getting 50 goals has been a goal of mine and something I've been working for since I was a freshman," Clymer said. "I finished my sophomore year with 41 goals and I thought I would get my 50th early in my junior year, but then I tore my ACL the first week of preseason. I worked really hard for the last year to prepare for getting to play again senior year, only to have COVID almost end the season before it started. With everything that happened I am very thankful to be playing right now and getting my 50th goal is even more meaningful to me than i ever thought it would be. I give a lot of credit to all my teammates who have helped me achieve my goal. Today everyone was very selfless and worked hard to set me up so that I would be able to score. We have all been working very hard this season and playing very well together and I am excited to see how we will continue to do."
Wyalusing took an early lead midway through the first half at 22:19 on a goal from Olivia Spencer, but the Lady Hornets battled back with two goals of their own. Clymer struck for the first of her four goals on the morning with 12:41 left to play then sophomore Molly Ingerick scored off an assist from Clymer at 9:21 to put Wellsboro in front, 2-1.
Clymer scored a hat trick in the second half, starting just over 4 minutes in, to reach her milestone. Senior Jena Boyce scored the second goal of the half at 36:09.
The win improves the Lady Hornets' record to 2-0-1 (2-0-1 NTL) to start off the season. The team is back in action on Wednesday, September 23 at Towanda.