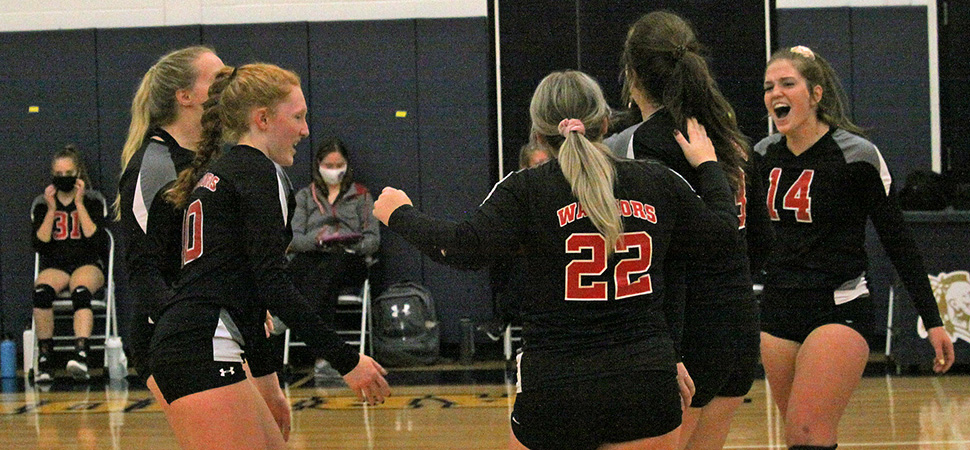 Canton wins 4th straight D4 Volleyball title
By: Chris Manning | NTL Sports | November 6, 2020 | Photo courtesy Chris Manning
TIOGA JUNCTION — Canton made quick work of Galeton, sweeping the Tigers 3-0 for their fourth straight District IV, Class A volleyball title Thursday.
"Mainly we just needed to play our best game that we could," Canton senior Annie Gaiotti said. "Just play as good as we could and leave everything out there on the court."
The Warriors won the sets 25-17, 25-14 and 25-12 as they amassed 19 aces and 23 digs.
Canton was losing the first set 5-2 when they went on a 5-0 run to take a 7-5 lead. Galeton would come back for a 9-8 edge but the Warriors out scored them 17-8 the rest of the way to take the first set.
Galeton once again took a 4-3 lead in the second set but a 6-1 found Canton ahead 10-5. Galeton never recovered as the Warriors out scored them 15-9 the rest of the way for the second set win.
The Warriors jumped out to a 7-2 lead in the third set and never looked back en route to their 25-12 win.
Gaiotti finished with 11 points, eight aces, eight kills, one assist and six digs with Carmya Martell adding six points, three aces, three kills, 17 assists and seven digs.
Jillian Shay had 10 points, four aces, and seven digs as Aislyn Williams added five points, two aces, 12 digs, four kills, one assist and one block.
Gracie Covert had four points, three digs, one block and one ace as Rachel Martin finished with three points, three digs, two kills and an ace.
Jillaney Hartford had three kills, three blocks and a dig and Trisha Gilbert rounded things out with three points, eight digs and a kill.
They face Blue Ridge on Tuesday, at home, with a 5:30 p.m. start in the first round of states but, for now, Canton Coach Sheila Wesneski is content to celebrate her fourth straight title.
"First we're going to enjoy this win and then we'll go back to making sure we're ready to play," she said.