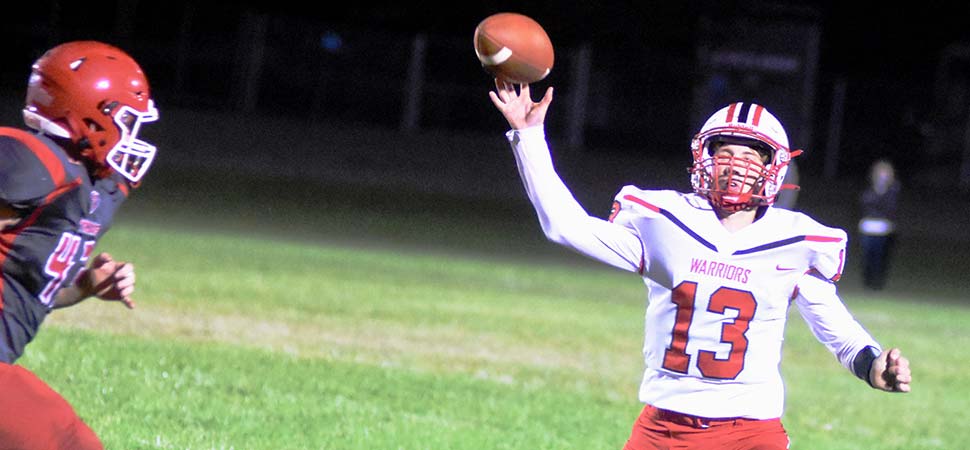 Canton rallies to beat Troy in Old Shoe game
By: Chris Manning | NTL Sports | September 12, 2020
Canton rallied from a 16-point deficit with 6:28 left to play to beat Troy and reclaim the Old Shoe 34-28 in week one NTL football action Friday.
After a Jake Deitrick fumble recovery for a touchdown put Troy 8-0 in the second quarter Canton's Cooper Kitchen hit Weston Bellows on an 11-yard, 4th-down fade to the corner for a touchdown to answer. Their 2-point try was no good but cut the lead to 8-6.
Then with 54 seconds in the first half Canton's Riley Parker punched one in from a yard out. The 2-point try was no good but the Warriors led 12-8 at the half.
Troy scored three straight touchdowns to start the second half: an 8-yard Caleb Binford run with 7:05 left in the third, a 49-yard pass play from Dom Ayers to Ridge Spencer with 2:58 left in the third and a Binford 40-yard run with 6:28 left to play to make it 28-12.
On Canton's ensuing drive Cooper Kitchen went 5-for-7 and led the Warriors to a touchdown, hitting Ben Knapp for a 20-yard scoring reception. He then found Bellows in the back of the end zone for the 2-point conversion to cut it to 28-20 with 3:54 left to play.
The Warriors recovered an onside kick on the kickoff but turned it over on downs. On Troy's ensuing drive they fumbled, giving Canton the ball back with less than two minutes to play in Trojan territory.
It only took the Warriors three plays as Kitchen hit Joel Schoonover for a 9-yard touchdown reception. Kitchen then hit Knapp for a 2-point conversion to knot it up at the end of regulation.
In overtime Canton stopped Troy, then, on their first play from scrimmage, Kitchen ran it in from five yards out to get the win.
Kitchen was 15-for-30 for 165 yards with three touchdown passes and an interception while rushing for a touchdown.
Riley Parker led the team in rushing with 44 yards on 17 carries while Knapp had 52 yards on three receptions, Bellows had 48 yards on six catches and Schoonover had 41 yards on four catches.
Canton will host Athens this coming Friday.