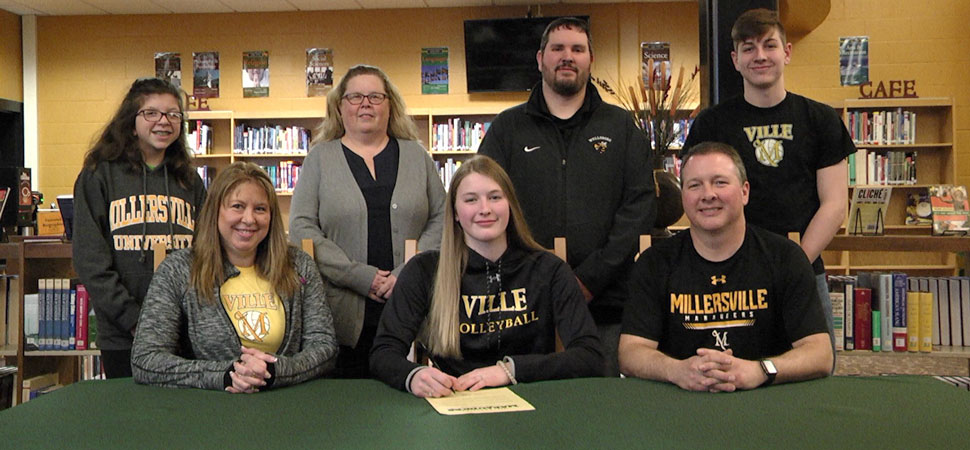 Callahan signs With Millersville
By: Ed Weaver | NTL Sports | February 28, 2020 | Photo courtesy The Home Page Network
Senior Caitlyn Callahan will continue her volleyball career this upcoming fall at Millersville University.
Callahan, the NTL's three-time Offensive Player of the Year, officially committed to the Marauders back on November 13, 2019.
"I'm so excited to be a part of the Millersville family," Callahan said. "My freshman year I visited the university to try out for the High Performance team and that's when I met the coach and some of the players. From there on Coach and I have been talking over the years and our relationship has grown. The coaches, players, and campus are amazing."
In addition to the level of coaching, Callahan also noted how she fell in love with the school.
"The campus makes me feel like I'm home, it's an amazing community and atmosphere, and I just love it there."
Head coach Sharon Zuchowski is excited about Callahan's next opportunity.
"I have been coaching for many years and you learn to spot those athletes that you know will make big things happen. When I first coached Caitlyn she was 12 years old on a 14U travel team, she was the youngest and smallest girl at the time. She didn't have a very good poker face and you could see the frustration when things did not go as planned.
"She was determined though to get things right and do them better. Over the last six years, I have had the privilege of watching her grow and develop from that 12-year-old little girl to the very strong and skilled young lady she is today. She played a phenomenal last game for us at Districts and has certainly left her mark on the Wellsboro Volleyball program. She is just getting started and I know she has more to offer.
"Millersville University is getting a great addition to their program."
Callahan led the Lady Hornets in nearly every statistical category during the 2019 season. She finished with a career-high 367 kills, giving her 896 for her career and ranking her as only the 2nd Lady Hornet to record over 750 for her career (Hannah Zuchowski (979), 2009-2012). Callahan also recorded 175 service points, 36 aces, 148 digs, and 17 blocks.
Sharing Coach Zuchowski's excitement about Callahan is her new coach, Brian Smith.
"We are very excited to have Caitlyn in this incoming class. I had the privilege of meeting Caitlyn for the first time when she tried out and was selected for our USAV Regional High Performance Team. Only 12 players from the whole state made that team and even then she stood out. I saw the great potential in her back then and I'm excited she made the decision to be a part of our program. We expect Caitlyn to make an immediate impact not only on our program but a big splash in our Conference as well. The work isn't done yet but I've seen her work ethic and her desire to learn and grow which will serve her well in our team environment.
"Her athleticism is part hard work and part a gift but who she has become is also a reflection of good parenting and a solid group of educators, coaches and close friends in the community," continued Smith. "It's now our turn to shape and mold her and I am very grateful for the opportunity to do so."
Millersville finished the 2019 season with a 26-9 record (15-4 PSAC Southeast) and qualified for the NCAA Tournament.
WellsboroAthletics.com would like to congratulate Caitlyn on continuing her academic and athletic careers.