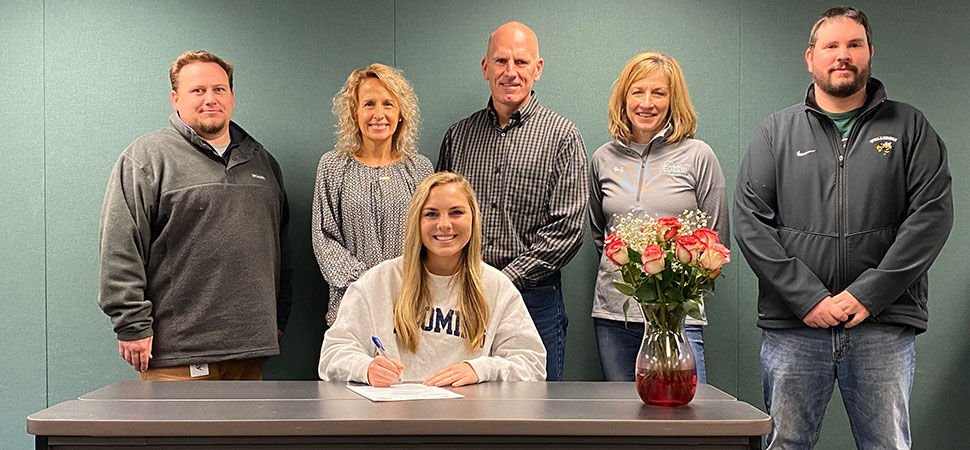 Brought signs with Lycoming College
By: Ed Weaver | NTL Sports | April 29, 2020 | Photo courtesy Dr. Brenda Freeman
Senior Cathryn Brought announced she will attend Lycoming College to continue her basketball career on Wednesday, April 29.
Brought was the backbone of the Lady Hornets' team this past season as the team's only returning starter. She led Wellsboro with 401 points on the season, finishing with 799 for her career, with seven 20+ point games, including a 34-point game against Wyalusing while sick.
Brought decided on Lycoming College after a year long search after narrowing her options down to three in-state schools. She also joins her brother, Connor, who swam for Wilkes University for one season.

"My biggest concern was a college that has a strong biology/pre-med major. I was interested in three colleges in Pa. with strong biology programs that also were interested in having me play basketball. Lycoming was the best fit overall," she said. "Academically, I was happy with answers to the questions I asked about their science department and their help in preparing students for medical school. I was impressed with Lycoming's internship possibilities and student-research opportunities."
One of the major factors drawing Brought to Lycoming College was the coaching staff.

"They (the basketball coaches at Lycoming) came to several of my games. They made me feel welcome when I visited campus and attended Lycoming basketball games and they made me feel as though I would fit right in with their program. Their conference is very competitive for women's basketball, which was appealing. Lycoming has ranked high for the past several years, and I hope I can help continue that over the next few seasons."
Brought's head coach, Maureen Poirier, is happy to see her continue her playing career.

"I am very excited to watch Cathryn continue her basketball career at Lycoming," said Poirier. "She has the drive and the ability to play college ball. Cathryn has been extremely important to the Lady Hornets program over the past four years. I am fortunate to have coached her for two seasons. Cathryn was one of the most dedicated players that I have coached. From a young age, she loved the game of basketball and worked hard to improve her game."
Poirier also feels Brought's game will translate well to the collegiate game.

"Cathryn is a very versatile player. Over the past two seasons, she has played point various positions. Having the skills and the ability to play guard or small forward will be beneficial for Cathryn as she continues to play at the college level."
Brought also shares Coach Poirier's statement on her being a well-rounded player.

"I've played every position over the past 4 years, so I feel as though I have at least a little foundation for wherever I might find myself playing. Coach Poirier has given me good insight into what to expect based on her own experience as a college player. She was always great about giving tips on small details to help improve my overall game. Over the past 4 years, Coach Poirier and Coach (John) Davis both stressed the importance of working year-round, and both ran strong off-season programs with open gyms and recreational leagues. In the weight room. Coach (John) DeLeonardis was a mentor for strength and fitness, but also for work ethic and leadership. He always inspired a positive attitude and doing your best, both on and off the court. Most important, throughout the past 4 years, I've had amazing teammates. Playing and practicing with them made me love the game even more. I have learned something from every single one of them that I will take with me."
Brought's dad, and softball coach, Ron Brought, knows his daughter has what it takes to make an impact at Lycoming College.

"I'm confident she'll provide Lycoming with a versatile player that can contribute at whatever position they need right from the start," he said. "Her experience in high school and AAU ball has put in her a position to be successful and not intimidated by the competition. I know she will continue to give no less than her very best. An athlete that dedicates themselves to their sport is an asset to any program. Her willingness to put in the extra work while in high school will pay off and make college athletics an easier transition. She thrives when challenged so I have no doubt she will do whatever is necessary to contribute at the next level of competition."
He also knows the type of student-athlete Lycoming is getting because he has witnessed it firsthand.

"The father-as-coach relationship only works out if the player is willing to be coached and work hard. I've been fortunate because Cathryn has always been an extremely hard worker from the time we started out in Little League. She understands what is necessary to be successful, and works year round at all of the sports she plays. She always viewed herself as any other member of the team did, and never behaved differently just because her father was the coach. She was always one of the hardest working players I ever coached. I could count on her to set a good example with her positive attitude and commitment. It's not easy on the player who has a parent for a coach, they get coached in practices and games and then they have to go home with the coach, and listen to more coaching. At times, added responsibility is placed on them. Cathryn has always made her best effort and developed into an outstanding pitcher over the years. I'm grateful to have had the experience of being her coach and I am very proud of her."
WellsboroAthletics.com would like to congratulate Cathryn on continuing both her academic and athletic careers this fall at Lycoming College.