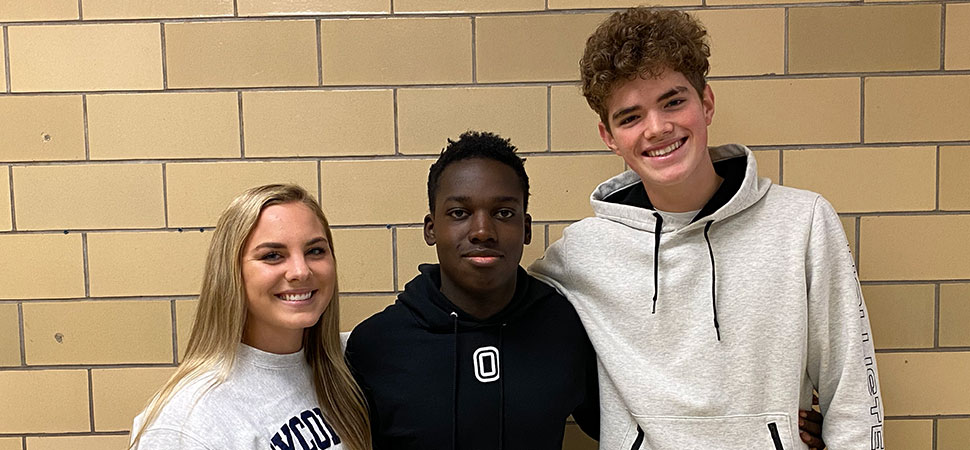 Brought, Grab, Manning named to NTL All-Star basketball teams
By: Ed Weaver | NTL Sports | April 29, 2020 | Photo courtesy Ed Weaver
Senior Cathryn Brought, junior Joseph Grab, and sophomore Liam Manning were all named to the NTL All-Star basketball teams on Wednesday, April 29.
Brought finished her career as a three-time all-star, the 2018-19 season NTL Defensive Player of the Year, and a 1st team selection during 2019-20. Brought doubled her scoring in 2019 (401) up from 213 points in 2018 to lead the Lady Hornets. She finished with 799 career points and shot .721 (194-for-269) from the foul line to go along with 453 rebounds, 202 steals, 140 assists, and 12 blocked shots.
"Being the lone returning starter this season, Cathryn could have approached the season differently," head coach Maureen Poirier said. "However, she worked harder than ever to make sure that her last season was going to be a successful year for herself and her teammates. She never missed an open gym during the summer or fall and played on two travel teams. Cathryn's success on the court can be attributed to her dedication to basketball. Her leadership, commitment, and love for the game of basketball will be hard to replace next season."
Grab had a breakout year in 2019 as he scored 55-2 points (24.0 ppg) to finish 6th all-time in Wellsboro boys basketball history. Grab also left his mark in the single season record books with 39 points against rival North Penn-Mansfield, good enough to tie for 5th all-time. Grab also added 74 rebounds, 68 assists, and 47 steals.

"Joseph was able to take over a game on the offensive end," said coach Steve Adams. "He could score on any team and had numerous clutch performances for us last season. Joseph scored over 30 points five times and totaled 552 in a single season. He is hard for someone to guard because if you double him he finds the open player, and if you guard him too close he will drive and score, and if you back off him he will make the outside shot. Joseph finishes at the hoop as good as anyone in the state at the High School level."
In his first year on the Varsity roster Manning was 2nd on the team in scoring with 231 points and led the Hornets with 163 rebounds. He also was the only Hornet to register a double-double (6) on the season.

"Coming into the season we were searching for an inside presence and Liam grew into that role," continued Adams. "Liam had 6 double-doubles with points and rebounds and established himself as an inside force to be reckoned with. His ability to handle the ball combined with soft hands has made him a versatile big man that is hard to guard. As Liam continues to grow into his position and gains more confidence and experience, Liam has potential to become one of Wellsboro's most dominate post players."
WellsboroAthletics.com would like to congratulate Cathryn, Joseph, and Liam on being selected to the NTL All-Star team.

View the complete 2019-20 NTL Boys Basketball All-Star team.
View the complete 2019-20 NTL Girls Basketball All-Star team.