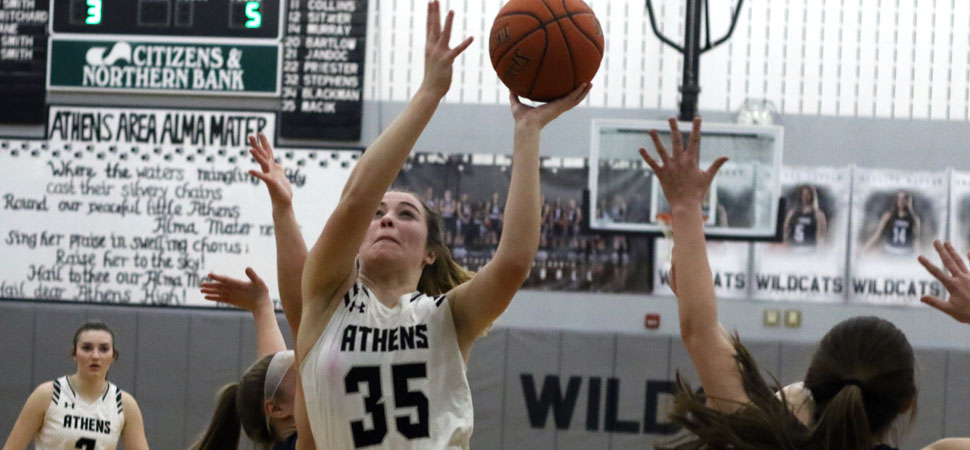 Athens tops Montoursville, 52-45, in Class AAAA quarterfinals
By: Tim Birney | NTL Sports | February 21, 2020 | Photo courtesy Tim Birney
ATHENS — Little things — diving on the floor for a loose ball, or setting a screen to free up a shooter — can win you basketball games.
For second-seeded Athens, during its 52-45 win over seventh-seeded Montoursville here Thursday night in the quarterfinals of the District 4 Class AAAA girls basketball playoffs, it was executing on its in-bounds plays.
The Lady Wildcats scored 12 points on in-bounds plays in the second half, in a game in which it trailed by two points at the half.
"We spend a lot of time emphasizing scoring on out-of-bounds plays, and fortunately it helped us out tonight," said Athens coach Brian Miller.
"If teams are playing man-to-man, we'll execute looking to get a shot in the blocks," noted Miller. "If they are playing zone, we'll look for an open 3-point shot."
With the win, Athens improves to 21-4, and guarantees itself of at least two more games as Class AAAA advances three teams to the state playoffs.
Miller said the season has exceeded even his wildest expectations.
"I hate to say it's a dream season, but it's close to a dream season," he said. "We were 14-2 in our league, we're now 21-4 overall, and we won in the opening round of districts — that's not bad after being 13-11 last season.
"The girls are excited that they've won 21 games, and that we've gotten this far," added Miller. "Who knows? We're guaranteed two more games, and we won't take them for granted."
Mackenzie Weaver knocked down a pair of 3-pointers early in the game to give Montoursville a 6-2 lead with 4:33 remaining in the first quarter.
The Lady Warriors slowed Athens in the early going, using a triangle-and-two defense against senior Haley Barry, and junior Kayleigh Miller,
"It's funny that they came out in a triangle-and-two," said Miller. "We were expecting that all year long from some of our local teams. I had no idea it wouldn't be until we played a Heartland (Conference) team before we saw it.
"It gave us some problems," he noted. "They were really denying Kayleigh (Miller) and Haley (Barry) the ball, and matching up well on the interior with Caydence (Macik)."
After a pair of free throws by Barry trimmed the deficit to 6-4, junior Megan Collins came off the bench to knock down a 3-pointer to give the Lady Wildcats a 7-6 lead with 3:52 remaining in the first quarter.
"When Megan came in, it gave us another shooter," said Miller. "She missed her first shot, but she didn't realize how wide open she was. When she took her time, and set her feet, she knocked one down.
"After that, they switched to a zone, partly because of Megan (Collins) and partly because they got in foul trouble," added Miller.
The teams traded buckets throughout the remainder of the first half, and Montoursville led 24-22 at the intermission.
Weaver canned a 3-pointer early in the third quarter to give the Lady Warriors a 27-22 lead.
Trailing 29-24, senior Avery Priester set up sophomore Caydence Macik for back-to-back buckets, the second coming on an in-bounds play, in the low blocks to trim the deficit to 29-28 with 5:35 left in the third quarter.
A minute later, Barry converted an old-fashioned three-point play to give Athens a 31-29 lead, but Mackenzie Cohick scored on an offensive rebound moments later to tie the game at 31-31.
With 3:12 remaining in the third quarter, Barry drove baseline and found Collins along the baseline on opposite site of the lane for a 10-foot jumper to give Athens a 33-31 lead. After Montoursville was whistled from stepping on the end line, while in-bounding the ball, Priester found Macik cutting to the bucket on the ensuing in-bounds play, and she converted a three-point play to make it 36-31 with 3:03 remaining.
After a time out, the Lady Warriors closed the quarter with a 7-2 spurt to tie the game at 38-38 heading into the final eight minutes.
Barry opened the fourth quarter with a 3-pointer, but Madalyn Adams answered for Montoursville to tie the game at 41-41 with 7:33 remaining in the game.
After a pair of free throws by Macik gave Athens the lead for good, Miller broke free in the corner on an in-bounds play and canned a 3-pointer to make it 46-41 with 6:01 remaining in the contest.
With 4:17 remaining, Barry came free on an in-bounds play to give Athens a 48-41 lead.
After a bucket by Sanne Klemick pulled the Lady Warriors within five points, they came up with a defensive stop. However, Macik stepped in front of a pass in the lane moments later to get the Lady Wildcats the ball back with 2:50 remaining in the game.
Athens then took more than two minutes off the clock before turning the ball over, but the damage had been done.
After Montoursville missed the front end of a one-and-one with 36 seconds left int he game, Miller knocked down a pair of free throws to make it 50-43 with 28 seconds left in the game.
Macik, who was 8 of 9 from the free-throw line, led Athens with 26 points, four rebonds, five steals, and one blocked shot, while Barry had 10 points and four rebounds, Miller had 10 points, three rebounds, and two steals, and junior Rachel Stephens added six boards and three steals.
"Caydence played great offensively, finishing around the rim," said Miller.
"I think she was a little nervous to start out, she was taking some uncharacteristic off-balance shots," noted Miller. "Once she settled in and realized she had time to finish against those girls, she was great.
"She also did a nice job in our zone, going block to block," he added.
The unsung hero of the game, however, was Priester, who only scored one point, but doled out 11 assists and had two steals.
"She is incredible," said Miller. "We would not have won 21 games without Avery Priester.
"She's one of our best defenders, if not our best defender, and she finds our shooters," noted Miller. "I'm assuming a lot of the baskets Caydence got tonight came from Avery penetrating, or leading her to the right spot, or entering the ball into the post correctly.
"Avery does not get enough credit because everyone wants to see points, points, points, but without her we would not be where we're at today," added Miller. "I'm going to miss her next year. She's a great player."
Weaver led Montoursville with 20 points, including five 3-pointers, while Cohick added 10, and Adams chipped in with eight, including a pair of 3-pointers.
Athens will face the winner of Friday's quarter-final match-up between third-seed Shamokin and sixth-seed Milton at a date, time, and site to be determined.
FOR MORE PHOTOS, VISIT VALLEY SPORTS REPORT.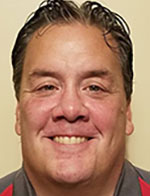 Tim Birney is the founder / owner of River Road Media Group. He was born and raised in the Valley, graduating from Waverly High School in 1984.
Birney earned an Associate's Degree in Journalism from SUNY Morrisville in 1986 and a Bachelor's Degree in Journalism / Public Relations from Utica College of Syracuse University in 1988. He began his newspaper career at The Daily Review in Towanda in 1989, before moving on to The Evening Times in 1995. He spent more than 10 years at the Times, the last four as Managing Editor.
River Road Media Group includes five sites in "The Sports Reports" family that cover 24 school districts in five counties: Valley Sports Report (launched Aug. 10, 2009), Tioga County (NY) Sports Report (Aug. 13, 2018), and Northern Tier Sports Report (Aug. 31, 2020); Northern Tier West Sports Report (March 15, 2021) Southern Tier Sports Report (Aug. 16, 2021).