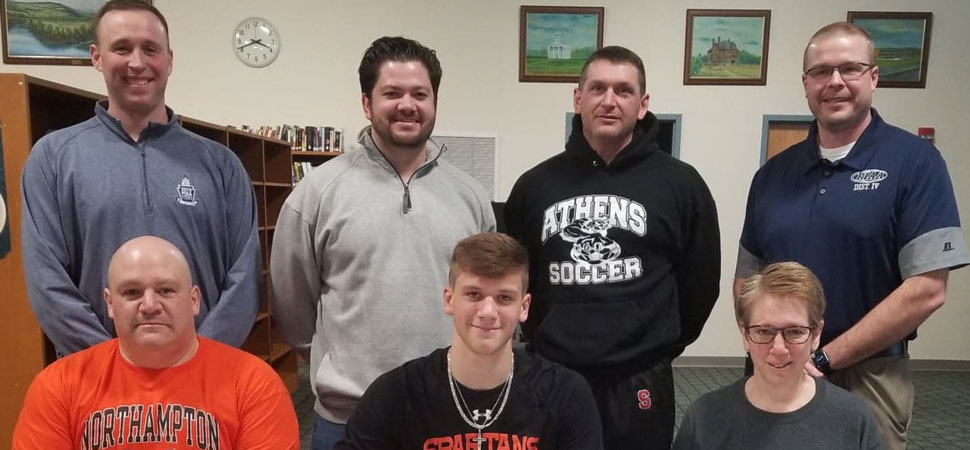 Athens' Maslin signs to play collegiately at Northhampton CC
By: Tim Birney | NTL Sports | February 21, 2020 | Photo courtesy Tim Birney
ATHENS — Athens senior Joel Maslin signed a National Letter-of-Intent to play baseball at Northhampton Community College here Thursday in a brief ceremony in the high school library, and is looking forward to playing at the next level.
"It's a a strong, strong baseball program," said Maslin. "They've been in the (Junior College) World Series two of the last three years. It's going to be fun."
Maslin said his visit to Northhampton, which is located in Bethlehem, Pa., made a big difference.
"It was great, the recruits were welcomed in like family," he said. "The coaches were great, and the players were very nice. It will be exciting."
Northhampton has had several former NTL players on its roster in recent years, including former Athens standout Tyler Forbes, who is now at Division II West Chester.
In the fall, Maslin will be joined there by high school teammate Keegan Rude.
"We went down there together," said Maslin. "Keegan was the original recruit … I went down and coach (Adrian) Yaguez talked to me, and said he 'would take anybody from Athens' because coach (Brenden) Hitchcock has done such a great job' here.
"I'd have to agree with him, coach Hitchcock is a great coach," added Maslin. "I can't thank either one of them enough for the opportunity to play."
Athens coach Brendon Hitchcock believes Maslin will be successful at the next level.
"Joel is a guy who loves the sport of baseball, and is a guy who works really hard at it," said Hitchcock. "I think those two components are going to be what carry him at the next level."
Maslin knows he has some work to do before the fall.
"I think I need to work on my defense a bit, and my batting can always improve."
Hitchcock believes Maslin will do whatever it takes to improve.
"He's a kid that's always done the things we've asked him to do. Example, we asked him to get faster, and he came back a year later and was quite a bit faster.
"We're going to work really hard with him this season to prepare him for the next level," said Hitchcock. "He has all the physical tools, we're going to try to get him ready for the mental aspect of that game.
"I don't know what their plan is defensively for him, but he's a versatile kid who is athletic," added Hitchcock. "We're excited for him that he'll get an opportunity to continue to play."
While he's excited about the future, Maslin is looking forward to finishing off his high school career on a high note.
"I'm looking for a big year. I'd like to see us finish strong," Maslin said.
Maslin will major in Criminal Justice with an eye on becoming a state trooper.
FOR MORE, VISIT VALLEY SPORTS REPORT.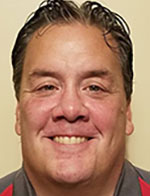 Tim Birney is the founder / owner of River Road Media Group. He was born and raised in the Valley, graduating from Waverly High School in 1984.
Birney earned an Associate's Degree in Journalism from SUNY Morrisville in 1986 and a Bachelor's Degree in Journalism / Public Relations from Utica College of Syracuse University in 1988. He began his newspaper career at The Daily Review in Towanda in 1989, before moving on to The Evening Times in 1995. He spent more than 10 years at the Times, the last four as Managing Editor.
River Road Media Group includes five sites in "The Sports Reports" family that cover 24 school districts in five counties: Valley Sports Report (launched Aug. 10, 2009), Tioga County (NY) Sports Report (Aug. 13, 2018), and Northern Tier Sports Report (Aug. 31, 2020); Northern Tier West Sports Report (March 15, 2021) Southern Tier Sports Report (Aug. 16, 2021).