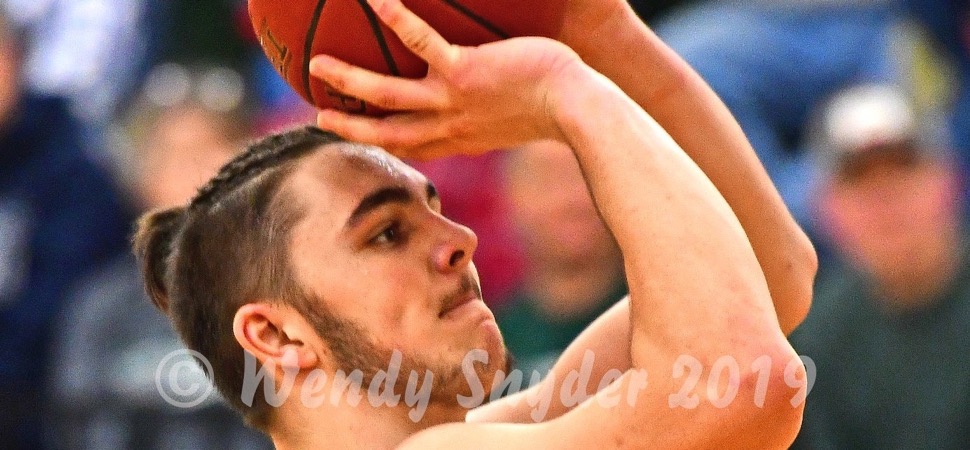 Tuttle reaches 1,000 as Hornets go undefeated in NTL
By: Ed Weaver | NTL Sports | February 16, 2019 | Photo courtesy Wendy Snyder
Senior Brandyn Tuttle became the 10th member of the Wellsboro Boys Basketball team to score 1,000 career points on Friday, February 15 in a 81-42 win over Troy.
"When we came into our freshman year and Coach Outman talked about who wanted to score 1,000 points and told us what we had to do if we wanted to achieve it," Tuttle said. "I was the shy freshman who didn't think I'd ever have a shot at reaching it. I went from minimal minutes my freshman/sophomore year to becoming a starter my junior/senior years. It's crazy to think that I practically score it in two seasons but all the hardwork I put in finally paid off."
What makes the feat even more remarkable is Tuttle is just the second Hornet to reach the milestone a year after a Hornet previously reached it. Dalton Prough achieved the 1,000-point milestone in last year's District IV Class AAA championship game against Loyalsock.
Coming into the game Tuttle needed 31 points to score exactly 1,000. He hit the exact number to give him exactly 1,000 career points.
"I can't thank my family, the coaches, and my teammates enough," continued Tuttle. "They have all pushed me to become the player that I am today and I give them a lot of credit. All the off-season hours with my dad or Coach Outman coming in during whacky hours on a Sunday paid off. Everyone around me has been nothing but supportive and the feeling right now is still pretty surreal."
Wellsboro dominated their final regular season game and jumped out to a 20-10 lead after the first quarter, then extended their lead at halftime with a 25-point quarter, to lead 45-21. The Hornets strung together their third consecutive 20-point quarter to start the second half as they outscored the Trojans 25-14 to lead 70-35 heading into the fourth quarter, where they went on to score 11 points.
Tuttle's 31 led all scorers on the evening while senior Andrew Brelo backed him up with a career-high 22 points. Sophomore Joseph Grab scored 11, senior Tanner Button and junior Daniel Mitchell added 5 points each, senior Hunter Brown chipped in with 3 points, and seniors Holden Kennedy and Cam Tennis rounded out the scoring with 2 points each.
Tuttle added 8 rebounds and 5 blocks to his point total, Grab has 6 assists, and Brelo added 4 assists and 4 steals.
Troy's Seldon Rogers scored 21 points to also break the 1,000 career milestone.
The win improves the Hornets' record to 21-2 overall and 16-0 in the NTL Large School Division standings, the second straight year with a perfect league record. Wellsboro will be back in action against rival North Penn-Mansfield in the NTL Showdown finals at Mansfield University.