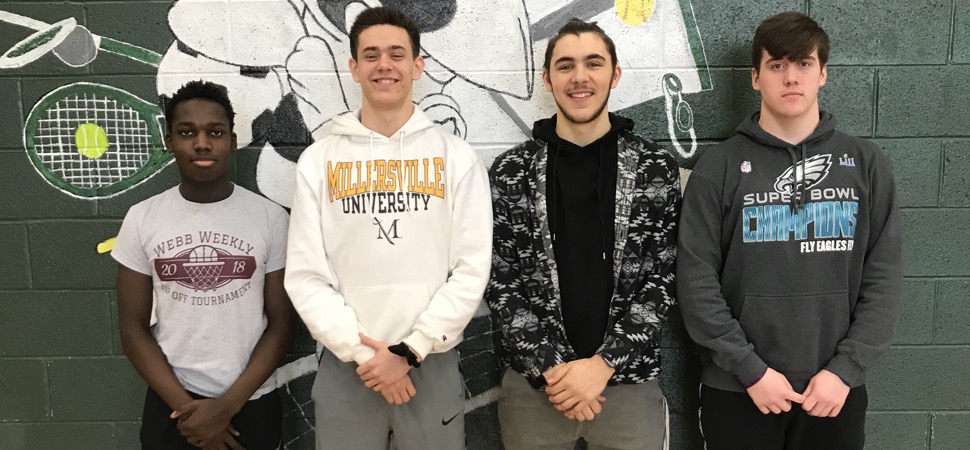 Tuttle named NTL Player of the Year
By: Ed Weaver | NTL Sports | March 26, 2019 | Photo courtesy Todd Outman
Senior Brandyn Tuttle was named the Northern Tier League's Player of the Year on Tuesday, March 26.
Wellsboro's coaching staff was also named Coaching Staff of the Year by the league.
Tuttle, last season's NTL Defensive Player of the Year, capped a stellar senior season with 511 points, 314 rebounds, and 19 double-doubles as he helped lead the Hornets back to the District IV Class AAA championship game.
"It's a great honor to get," Tuttle said. "I knew coming into the season that I would have to work hard in order to achieve it and that's what I did. Being league POY is just the start, now I'm really hoping to see that after the year that I had people will actually start recognizing what I've done for the last two years, I really am looking forward to see if I can be the All Region POY and then maybe even make All State especially because there aren't many people who can average a double double for two straights years and not get noticed for it."
Head coach Todd Outman also chimed in saying, "Brandyn had an outstanding year and is deserving of the NTL POY. He is a very good player who has the ability to dominate both on the inside and outside. Brandyn was a mismatch for opponents. He is strong and possess quality moves in the post, yet he can step out and shoot the three ball well."
Joining Tuttle on the All-Star team were seniors Andrew Brelo and Hunter Brown and sophomore Joseph Grab.
Grab and Brelo were both 1st team selections while Brown was a 2nd team pick in just his second year playing basketball.
Grab was 3rd on the team in scoring with 289 points and led the Hornets from behind the three-point line with 47. He also had 93 assists, 54 steals, and 78 rebounds.
"Joseph has a ton of potential," Outman said. "His hard work, dedication, and commitment to becoming a better player was instrumental in our success this year. He is a really good ball handler who has the ability to get to the rim or at least break down the defense so he could pass it out to a teammate to shoot the three. He is also a very good shooter himself."
Brelo was 2nd on the team with 323 points with 41 three-pointers and went 30-for-44 (0.682) from the foul line. He led Wellsboro on the season in steals (73) and was 2nd on the team in blocks (12).
"Andrew was a nightmare for teams, especially on defensive. His length caused issues for teams when we pressed. It also was a problem for teams on offensive too. He is very athletic and can take people off the dribble to score or simply shoot the three."
Brown finished the season 4th in scoring with 158 points and was 2nd on the team in rebounding (143), and third in blocks (7).
"Hunter had a great year for us. He knew his role and played it well. He's the type of player who does all the little things that never show up in the box score, but are vital to the team's success. Hunter was a huge presence on the interior for us, yet was another one of our players who had the ability to step out and shoot the three. Hunter has only been playing basketball his Junior year. Had he started playing before then, I am confident he would have made the first team."
WellsboroBasketball.com and WellsboroAthletics.com would like to congratulate Brandyn, Joseph, Andrew, and Hunter on their all-star selections.
View the complete 2018-19 NTL Boys All-Star team.