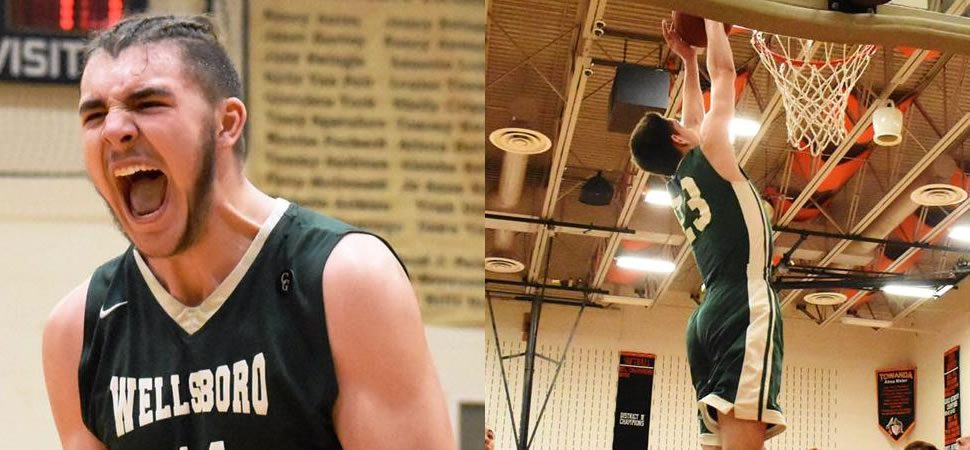 Tuttle, Brelo named All-Region Players of the Year
By: Ed Weaver | NTL Sports | April 8, 2019
Seniors Brandyn Tuttle and Andrew Brelo were named All-Region Players of the Year by the Towanda Daily Review on Saturday, April 6.
Tuttle was named the Player of the Year while Brelo was named Defensive Player of the Year. Tuttle was also a 1st team selction and Brelo was a 2nd team pick and headlined the All-Defensive team.
Tuttle, a two-time Northern Tier League Player of the Year, capped his senior season with 511 points, 314 rebounds, and 19 double-doubles as he helped lead the Hornets back to the District IV Class AAA championship game. He finished his career with 1,066 points, 767 rebounds, 122 assists, 46 blocks, and 132 steals.
"Brandyn's abilities to play inside and outside made him very hard to guard," said coach Todd Outman. "He was a constant double double machine which is very difficult to do. He was a vocal leader at very inexperienced team that was able to play for another district championship with 4 new starters."
Brelo was 2nd on the team with 323 points with 41 three-pointers and went 30-for-44 (0.682) from the foul line. He led Wellsboro on the season in steals (73) and was 2nd on the team in blocks (12). He finished his career with 519 points, 176 rebounds, 116 assists, 21 blocks, and 152 steals.
"Andrew was a relentless defender who never seemed to get tired. As games wore on his length and pressure wore on teams which lead to turnovers and fast break opportunities for us. There are no stats for how many passes and decisions he altered that helped the team get back into the district championship and go undefeated in the league for the second straight year."
Joining Tuttle and Brelo on the All-Region team are sophomore Joseph Grab and senior Hunter Brown. Grab was a 3rd team selection while Brown was named to the All-Hustle team.
Grab was 3rd on the team in scoring with 289 points and led the Hornets from behind the three-point line with 47. He also had 93 assists, 54 steals, and 78 rebounds.
Brown finished the season 4th in scoring with 158 points and was 2nd on the team in rebounding (143), and third in blocks (7).
View the complete 2018-19 Towanda Daily Review All-Region boys basketball team.