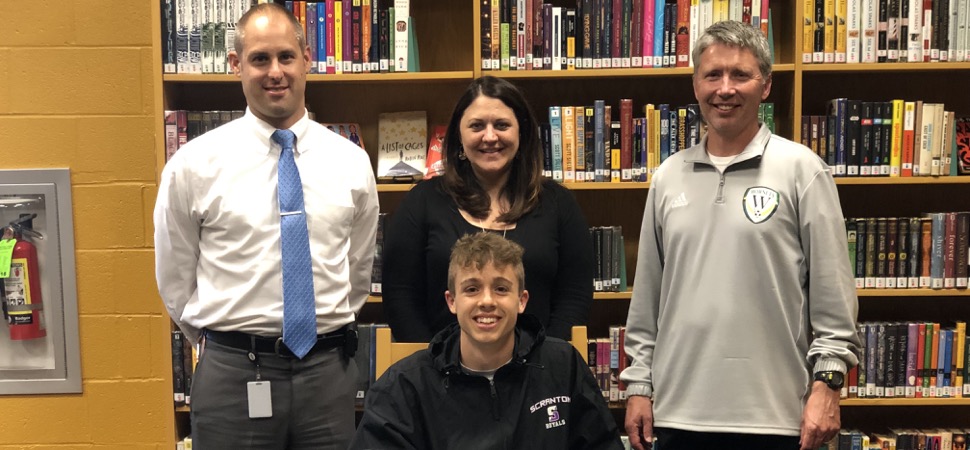 Rudy commits to University of Scranton
By: Ed Weaver | NTL Sports | May 9, 2019 | Photo courtesy Ed Weaver
Senior Brett Rudy is staying in close to home as he announced he is continuing his soccer career this fall at the University of Scranton on Wednesday, May 8.
The latest member of Wellsboro's 50 career goal club, Rudy capped his stellar senior season by being named an NTL 1st team All-Star at midfield and earned PSCA All-State honors. Rudy scored 33 goals during the 2018 season and had 14 assists and 80 points, the third most all-time in a single-season in Wellsboro Boys Soccer history.
He also finished his career with 69 goals, good enough for 2nd all-time.
Rudy drew interest from Lock Haven and Mercyhurst in the PSAC along with multiple Division III schools including Lycoming, Susquehanna, and Elmira College, but ultimately chose Scranton because of its fit and their Kinesiology program, specifically their physical therapy concentration.
"I'm really excited. I've put a lot of hard work in to get better and improving so now its paid off," Rudy said. "Next season I just want to work hard to try and earn a starting spot and hopefully get some goals, some assists, and some wins."
Rudy was the Hornets' key scorer this past season and played a huge part, in addition to Tanner Runyan and Noah Fitch, to the Hornets' 2017 District IV championship. Of all of the intangibles Rudy possesses, head coach Todd Fitch thinks Rudy's work ethic will help him find success at the next level.
"I'm really proud of Brett, and it's just a great exclamation point to his career. He has a tremendous work ethic and passion for the game, but he's a true student-athlete," Fitch said. "For him to go on and play at an institution that will give him a good education is just a great opportunity."
Fitch has coached Rudy all four years of his career, prior serving as assistant coach to John Shaffer before the 2018 season, and has had the change to watch him become the person and soccer player he is today.
"As coaches, you like to think you've been influential," Fitch continued. "But again people don't recognize all the time the work a person is putting in on their own behind the scenes. I think if Brett continues with that passion, the love of the game, and his work ethic it will take him a long way."
WellsboroSoccer.com would like to congratulate Brett on continuing his academic and athletic career this fall.