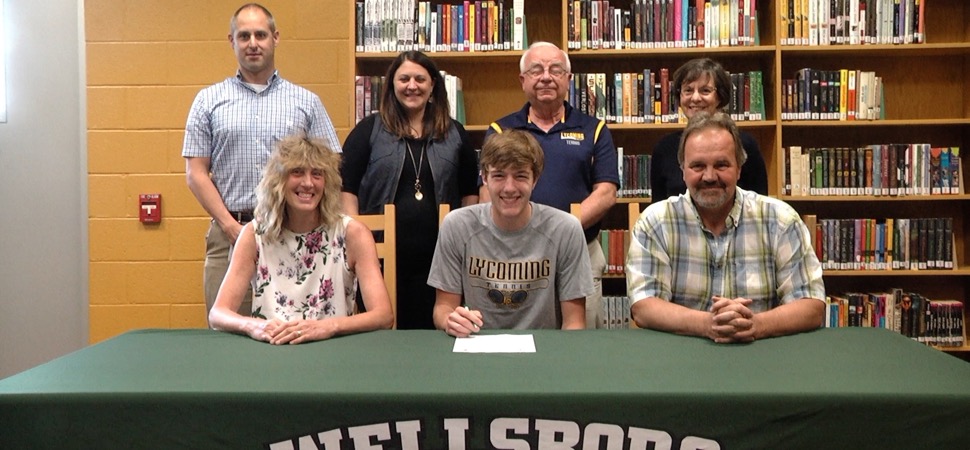 Redell joins Lycoming College tennis team
By: Ed Weaver | NTL Sports | May 31, 2019 | Photo courtesy The Home Page Network
Senior Nate Redell announced he will be continuing his tennis career as a member of the Lycoming College tennis team on Thursday, May 30.
Redell, who helped guide the Hornets to back-to-back Northern Tier League championships the past two seasons, is anxiously awaiting to get on campus.
"I'm really excited and I've been training all winter and I'll try to play every day in the summer, trying to get better and better and try to bring everything to the team."
Redell went 13-2 this season and 12-3 last season, both times qualifying for the PIAA District IV Boys Tennis singles tournament. Redell went 38-18 for his career in the regular season in singles play and was 3-3 in doubles.
Redell plans on majoring in biology while at Lycoming and noted the school's closeness to home and their facilities as heavy influences in picking Lycoming.
"I chose Lycoming because they have great indoor courts that are close to the campus. The school has a great atmosphere and helpful teammates."
Boys Tennis head coach Margery Hoffman shared Nate's excitement on joining Lycoming.
"Nate has been a leader of this program all 4 years he's been on the team," Hoffman said. "He's always been very serious about the game and he comes well prepared. He's also worked with the new players every year and has made them ready for competition."
Lycoming assistant coach Joel Reid was also on hand for Nate's announcement.
"We're really pleased to have Nate come to Lycoming College," said Reid. "He's a strong player and one of the things we can do is plug him into the top of the lineup, and when you can do that it makes the rest of the lineup that much stronger. He's been taught well, he's worked hard to improve himself. We're excited to have him come."
WellsboroAthletics.com would like to congratulate Nate on continuing his academic and athletic careers this upcoming fall.