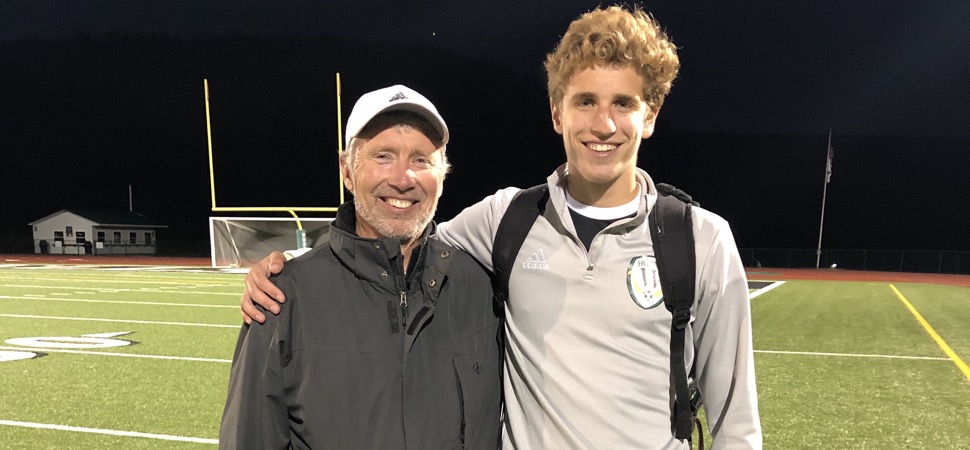 Poirier records 50th assist; Hornets blow out Troy on Senior Night
By: Ed Weaver | NTL Sports | October 16, 2019 | Photo courtesy Maureen Poirier
Junior Will Poirier became the latest member of the Wellsboro Boys Soccer team to reach 50 career assists as the Hornets blew out Troy 8-2 during Senior Night on Tuesday, October 15.
"We won the match and Will hit the 50 career assists milestone. Overall, a good night of soccer for us," head coach Todd Fitch said.
That milestone wasn't the only stellar performance on the evening. Junior exchange student Alvaro Garza-Seijo scored a career-high 4 goals during the contest.
Junior Joseph Grab started the scoring just 1:30 in the game, then back-to-back goals by Garza-Seijo had Wellsboro up 3-0 in under 10 minutes. Wellsboro add 3 more goals before the half expired. With 23 minutes remaining junior Kaeden Mann split a pair of Troy defenders and found sophomore Owen Richardson for a goal, then Mann scored off a Poirier assist to make it 5-0.
Wellsboro's final goal in the half came with 6:10 remaining as junior Zach Singer headed in a Poirier corner kick to make it 6-0.
Both teams added a pair of goals in the 2nd period. Wellsboro started just a minute in as Garza-Seijo used a pass from Poirier to make it 7-0, then just past the middle of the period Poirier found Garza-Seijo again.
Wellsboro took 28 shots on goal to Troy's 7 and had a 7-4 advantage in corner kicks.
Junior Ethan Ryan and freshman Aiden Gehman combined for 6 saves in goal for the night.
The win improves the Hornets' record to 12-4 (8-2 NTL) before they travel to Penn College to face South Williamsport on Thursday, October 17.
In the Middle School game the Hornets shut out Northern Potter 6-0. Scoring for the Hornets was Sara Seeling, Caden Smith (2 goals), Maddy Mascho, Jacob Abadi, and Isaac Macias.
Dillon Boyce had 3 assists and Maddy Mascho and Watson Feil each had 1.
Wellsboro had 18 shots on goal and 10 corner kicks to zero shots and corner kicks for Northern Potter.