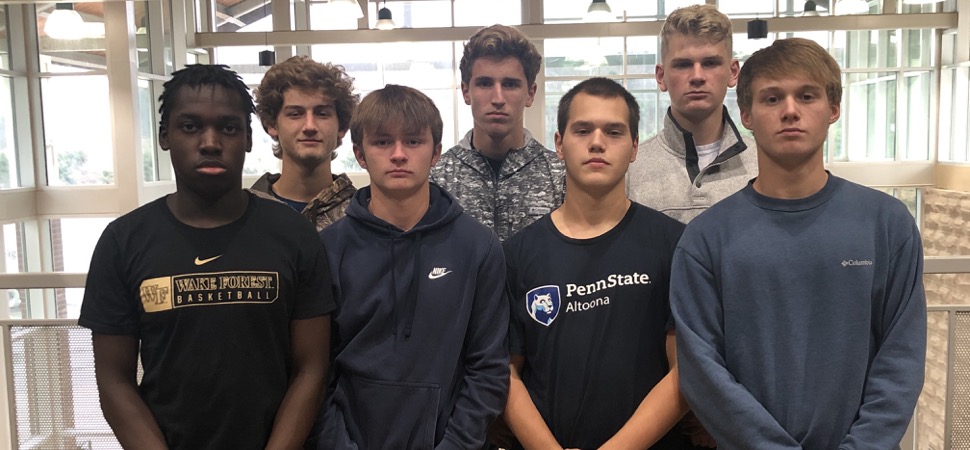 Poirier, Leach named Boys Soccer Players of the Year
By: Ed Weaver | NTL Sports | November 19, 2019 | Photo courtesy Ed Weaver
Junior Will Poirier and senior Luke Leach were named NTL Players of the Year as the league announced their Boys Soccer All-Star teams on Tuesday, November 19.
Poirier was named the league's Offensive Player of the Year and Leach was named co-Defensive Player of the Year along with Athens' David Scheftic. Both were also named 1st team All-Stars at their respective positions.
Poirier led the Hornets in points on the season with 65. He had 16 goals and 33 assists. Leach helped control the Hornets' back line that only allowed 30 goals during the season.
"Achieving a level of performance that is recognized by others is a testament to Will and Luke's effort to develop their soccer skills," head coach Todd Fitch said.
"Reaching the 50 career assists milestone this year demonstrates Will's ability to set up those around him, but he can also take on players and finish shots. Our opponents recognize that he is a dangerous attacking threat and he continues to work to develop his craft.
"Luke embraces the role of a defender and he executes that role with excellence. He is an assertive, courageous, poised, and humble player that effectively denies opponents space to build their attack. There are very few stats to highlight his impact on our defensive line but there is no question of the influence he has had with any success our team has had. I am pleased that our opponents have also recognized Luke's contribution to our team."
Joining Poirier and Leach on the All-Star team are juniors Kaeden Mann, Joseph Grab, Zach Singer, Luke Pondo, and Zach Rowland.
Mann and Grab were both 1st team forwards. Mann led the Hornets with 25 goals and 13 assists (63 points) and had 4 hat tricks. Grab had 12 goals and 9 assists (33 points) and had three 2-goal games.
Singer was named a 1st team defender while scoring 2 goals and making an assist on 8 shots.
Pondo was a 2nd team selection at midfield as he recorded 14 goals and 5 assists (33 points) on 44 shots. Rowland was named a 2nd team defender while also registering 2 goals and 1 assist on 18 shots.
WellsboroAthletics.com would like to congratulate Will, Luke, Kaeden, Joseph, Zach, Luke, and Zach on their selections.
View the complete 2019 NTL Boys Soccer All-Star team.