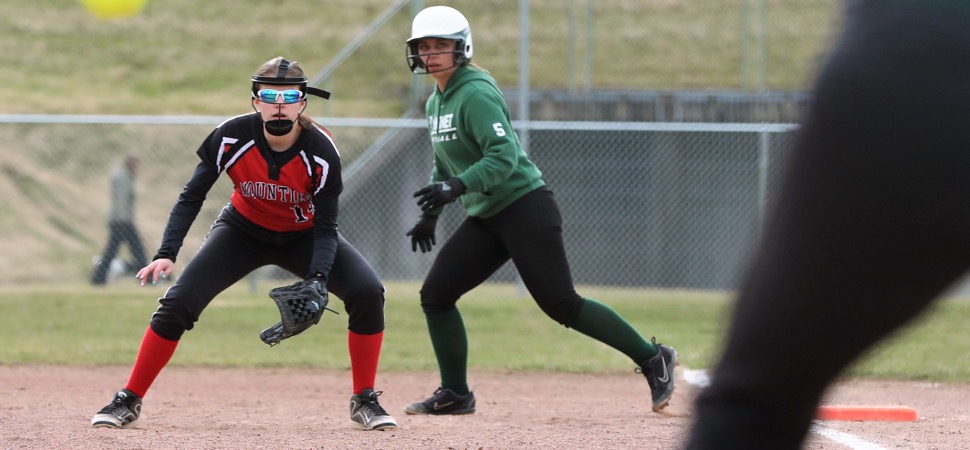 Lady Mounties top Wellsboro 10-3 on Heater Grand Slam
By: Ed Weaver | NTL Sports | April 12, 2019 | Photo courtesy Sarah Wagaman
North Penn-Liberty's Mackenzie Heater hit a grand slam to propel the Lady Mounties to a 10-3 win over Wellsboro on Thursday, April 11.
Liberty started out with a 3-0 lead. After a walk by Sara Swingle, Jessica Kouba hit a single up the middle of the Wellsboro defense to score Swingle then Kouba and Savanah Doney scored. The Lady Hornets got two runs back in the top of the second as seniors Hailey Neal and Heidi Zuchowski led off with back-to-back base hits. A Rileigh Gerges hit scored Neal then sophomore Jessa Lohr scored Zuchowski on a sac fly to cut the Lady Mounties lead to 3-2.
An RBI single by Doney in the bottom of the 2nd scored Swingle to put Liberty up 4-2, then after a scoreless third inning, Heater hit a grand slam after a prior run by Shae Berguson to for a 5-run 4th inning to put North Penn-Liberty up 9-2.
Both teams scored once more each on the afternoon. Kouba scored in the bottom of the 5th to put Liberty up 10-2 and Zuchowski scored in the top of the 6th for Wellsboro.
Kouba and Doney each went 4-for-4 at the plate with Doney hitting a double and a triple. Berguson was 3-for-4, Mariah Kshir was 2-for-4, Swingle was 2-for-3, and Heater was 1-for-3 with a grand slam.
Doney went all 7 innings for Liberty in the win, allowing 3 runs (1 earned) on 10 hits with 5 strikeouts.
Zuchowski went 2-for-3 at the plate and scored 2 runs to lead the Lady Hornets while junior Ryann Adams was 2-for-4. Junior Cathryn Brought, sophomore Chelsie English, Neal, and Gerges also added hits. Gerges, Lohr, and Zuchowski drove in runs.
Brought allowed 10 runs (5 earned) in 6 innings of work. She gave up 11 hits and a walk to go with 8 strikeouts in the loss.
The loss drops the Lady Hornets to 3-2 overall (3-1 NTL Large School Division) while Liberty improves to 3-2 (2-2 NTL Large School Division). The team is back in action against South Williamsport on Saturday, April 13.