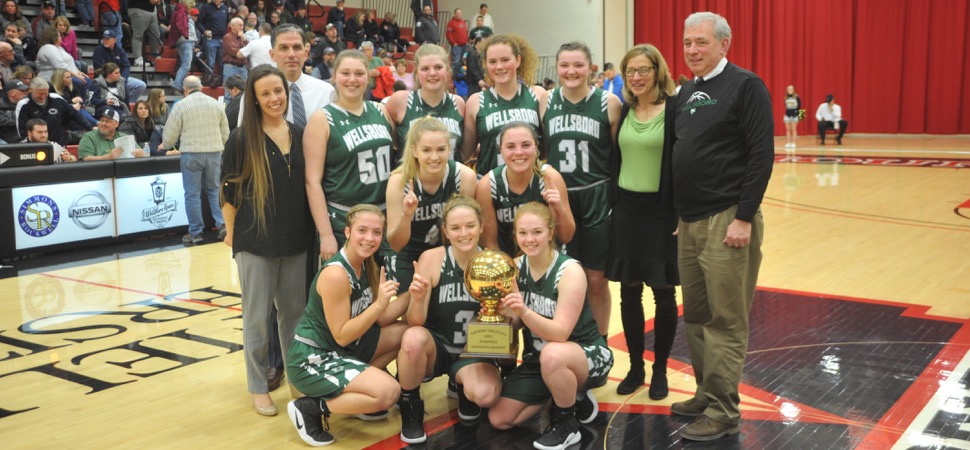 Lady Hornets win NTL Showdown
By: Ed Weaver | NTL Sports | February 17, 2019 | Photo courtesy Charlie Berch
For the first time in school history the Wellsboro Lady Hornets were crowned NTL Showdown champions following a 53-40 win over Sayre on Saturday, February 16.
"It's awesome, especially starting the season off 0-4," said coach Maureen Poirier. "We were beat at the beginning of the season, we were in some really tough games and to hold the girls heads up and keep them coming to every practice and keep working hard, are even in games they never gave up and that's why we're where we are today."
The Lady Redskins were on fire to start the game as Camry Lane had 8 first-quarter points but senior Emma Poirier kept the Lady Hornets in the game with 10 points in the quarter, including a half-court buzzer-beater to trail Sayre 15-12 heading into the second. Both teams were even in the second with 11 points each as Sayre took a 26-23 lead at halftime.
Then things shifted in the third quarter in favor of the Lady Hornets. Wellsboro held Sayre to 14 total points in the second half, 9 in the third and 5 in the fourth. Wellsboro scored 30 points over the final 16 minutes as the Lady Hornets avenged an earlier season loss to Sayre.
"We told them at halftime that we were still in the game and they were controlling the boards," continued Coach Poirier. "The difference in the second half was us wanting the ball more than they did, and going out and controlling the boards."
Wellsboro also did a good job of shutting down Lane in the second half. Lane finished with 20 points for the game to lead the Lady Redskins, but was held to just 6 points over the final 16 minutes.
Poirier led all scorers with 23 points, 15 of them coming in the first half.
"The past two years we lost to Athens and I told everyone that 'I'm not coming out with a loss tonight. We're winning here,'" Poirier said. "We knew if we could play our game, and we improved so much (since the early season loss to Sayre) that we could definitely take it to them."
Junior Cathryn Brought joined Poirier in double-figures scoring 15 points, including two big three-pointers in the third and fourth quarters, and shot 5-of-6 from the foul line. Junior Liza Manning finished with 9 points and sophomore Jena Boyce, senior Heidi Zuchowski, and sophomore Bailey Monks all added 2 points each. Brought and Zuchowski each grabbed 8 rebounds and Manning had 6 rebounds. Manning also blocked a shot.
The win improves the Lady Hornets' record to 15-9 overall. The team will be back in action next week in the District IV Class AAA playoffs.