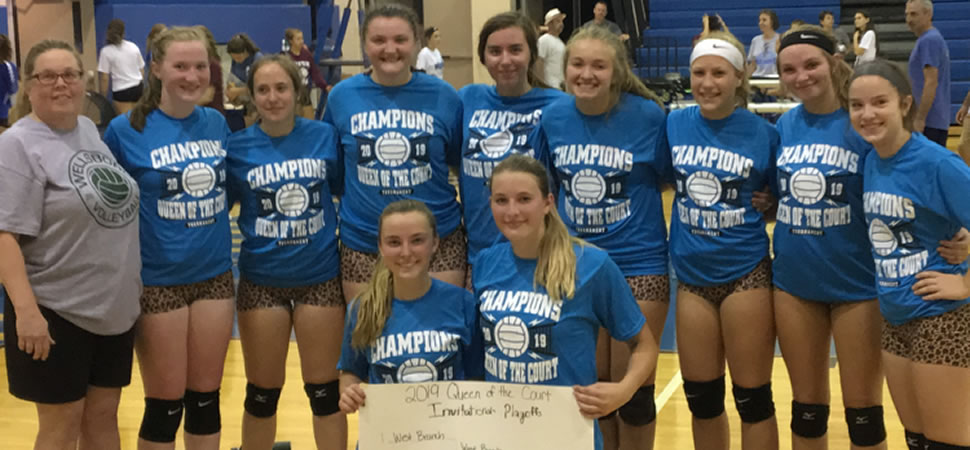 Lady Hornets take home Queen of the Court Tournament Crown
By: Ed Weaver | NTL Sports | September 3, 2019
The Wellsboro Varsity Volleyball team won the Central Mountain Queen of the Court tournament on Saturday, August 31.
The Lady Hornets split their 1st match of pool play with Glendale, 20-25 and 25-11 then went on to sweep Williamsport, 25-7 and 25-11, and Bellefonte, 25-21 and 25-13. After pool play the Lady Hornets were in the gold bracket where they beat St. Marys 25-15, 25-21, they split with West Branch 26-24 and 22-25, then beat St. Josephs 25-12, 25-13.
Wellsboro earned the #2 seed in the playoffs after bracket play, where they met up with #3 St. Marys and won 25-15, 25-15. Wellsboro then got a rematch with West Branch, the #1 seed who defeated Canton in the other playoff match.
The Lady Hornets opened the match strong but allowed West Branch back in to tie it up. After several back and forth point, the Lady Hornets took control and won 25-20. West Branch took an early lead in the second game but Wellsboro battled back to tie the game up and went on to win 25-18.
"It was a long hot day in the gym and after coming home last year with the trophy for the winners of the silver bracket, it was great to see the progress of the team to come home this year as the winners of the whole tournament," head coach Sharon Zuchowski said. "Once we got our feet under us and started communicating, we played well together. Although we lost our setter to a medical issue in the middle of the day, we regrouped, played well and are ready to start our season on Tuesday at home against Troy."