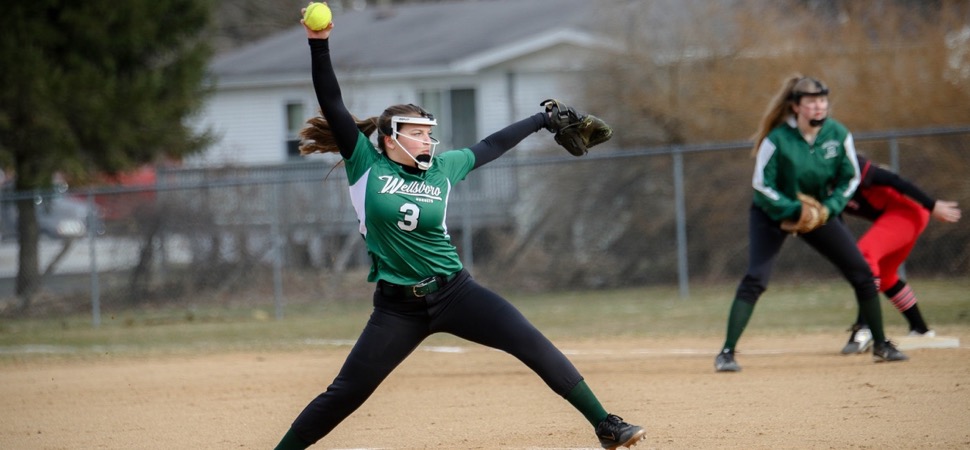 Lady Hornets roll to 13-2 win over Canton
By: Ed Weaver | NTL Sports | April 5, 2019 | Photo courtesy Joe Carreon
The Wellsboro Varsity Softball team had another strong offensive game in the young 2019 season as they rolled to a 13-2 win against Canton on Thursday, April 4.
The Lady Hornets started off the game with a solid 3-run 1st inning, led by a two-run home run by sophomore Kerrah Clymer. After singles by sophomore Jena Boyce and junior Cathryn Brought, senior Heidi Zuchowski doubled to score Boyce making it 3-0. After two scoreless innings the Lady Hornets two more runs in both the 4th and 5th innings. Freshman Emma Coolidge and junior Ryann Adams scored in the 4th to push the lead to 5-0 then sophomore Jessa Lohr and senior Hailey Neal added runs in the 5th to make it 7-0.
Wellsboro then added four more runs in the 6th. Boyce doubled to lead off then scored as Neal hit into a fielder's choice. Neal and Zuchowski later scored on a 3-run home run by junior Rileigh Gerges.
Wellsboro's final two runs came in the top of the 7th. Adams led off the inning with a double then scored on a hit by Clymer and Clymer later scored to give Wellsboro a 13-0 lead. Canton scored 2 runs in the bottom half of the inning, but the Lady Hornets came away with their second straight victory.
Clymer and Boyce each went 3-for-5 at the plate to lead Wellsboro with Clymer adding 4 RBIs, sophomore Chelsie English, Adams, Zuchowski, and Coolidge all had 2 hits, and Brought, Neal, and Gerges added the remaining 3 Wellsboro hits of their 17 total.
Clymer started on the mound and went the first 3 innings, striking out 4 and walking 4 to pick up the win. Brought came on in relief for the final 4 innings and struck out 5 and scattered 4 hits.
The win improves the Lady Hornets to 2-0 (2-0 NTL Large School Division). Next up for the Lady Hornets is a mid-afternoon game at home against Jersey Shore on Saturday, April 6.