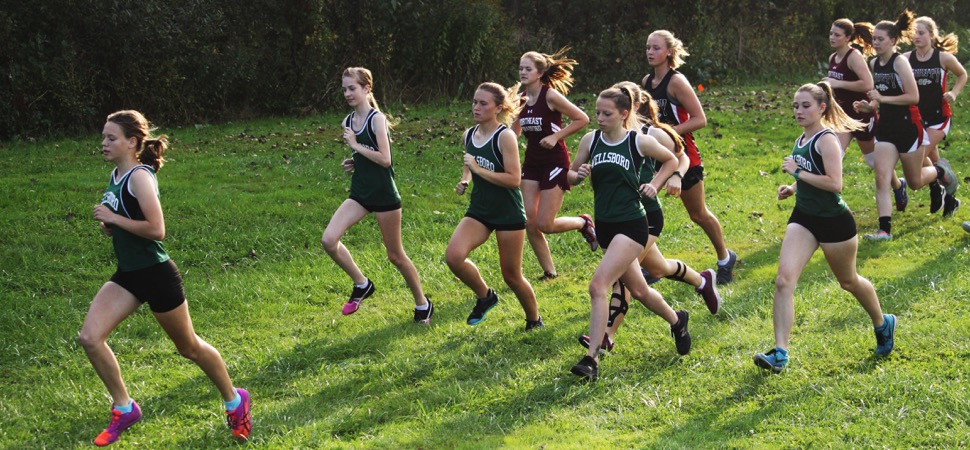 Lady Hornets earn pair of wins over NEB, Sullivan County
By: Ed Weaver | NTL Sports | October 2, 2019
The Wellsboro Varsity Girls Cross Country team kept up their strong season by scoring a pair of wins against Northeast Bradford and Sullivan County on Tuesday, October 1.
The Lady Hornets topped Northeast Bradford 15-43 and beat Sullivan County 17-40. Northeast Bradford also edged Sullivan County 27-28.
Wellsboro had the top 3 runners of the event as freshman Madeline Gage (22:37), sophomore Madeline Bryant (23:06), and freshman Julia DeCamp (23:36) finished 1, 2, 3. Wellsboro also had 2 more runners in the top 6 as senior Kylie Butler (24:10) and junior Aislinn Hoose (24:42) were 5th and 6th, respectively. Junior Alexis Banik (28:23) was 11th.
In the boys race Northeast Bradford swept both Sullivan County (17-44) and Wellsboro (15-48) while Wellsboro beat Sullivan County (24-34).
Junior Aidan Fletcher (20:42) was the highest finishing Hornet in 7th. Sophomore Gabe Guignard (21:24) was 11th, junior Tylar Wright (22:21) was 13th, sophomore Drew Manning (22:59) was 15th, sophomore Liam Manning (23:33) was 16th, junior Anthony Dunkel (23:57) was 18th, and junior Daniel Swanson (27:42) was 23rd.
In the Middle School race the Hornets fell to Northeast Bradford (16-47) and Sullivan County (19-42), while the young Lady Hornets lost to Northeast Bradford (15-50) and lost to Sullivan County (15-50). Ian Hoose (11:56) and Hannah Nuss (14:26) were the top finishers.
Both teams are back in action at home next Tuesday, October 8 against Athens.