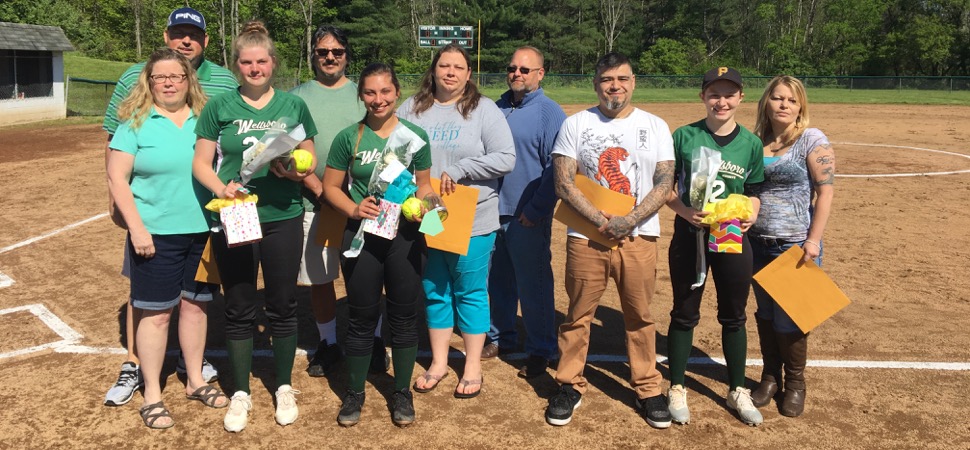 Lady Hornets beat Troy 5-2 on Senior Day
By: Ed Weaver | NTL Sports | May 19, 2019
The Wellsboro Varsity Softball team ended their regular season with a 5-2 win over Troy during Senior Day on Saturday, May 18.
Troy started off the game with a run in the top of the 1st but the Lady Hornets answered in the bottom half of the inning. After a leadoff walk by junior Ryann Adams sophomores Kerrah Clymer and Jena Boyce had back-to-back hits, with Boyce's being a double to score Clymer. Boyce then scored on an RBI single by senior Hailey Neal to put Wellsboro in front 2-1.
Troy came back to tie the game up at 2 later in the top of the 2nd, but Wellsboro broke the tie in the 5th to score the win.
Adams led off the 5th with a base hit then scored as Clymer drove her in putting Wellsboro up, 3-2. Boyce then hit a 2-run homer to score both her and Clymer to make the score 5-3.
The Lady Hornets had 8 hits on the morning with Boyce, Neal, and junior Cathryn Brought all went 2-for-3. Clymer and Adams added the others hits as they both finished 1-for-3. Brought pitched a complete game on the mound to score the win, allowing 2 runs (1 earned) on 6 hits with 6 strikeouts.
Wellsboro finishes the regular season with an 11-8 record and finished 9-6 in the NTL Large School Division. The Lady Hornets will be back in action in the District IV Class AAA playoffs on Thursday, May 23 against #3 seed Central Columbia at 4:30 p.m. at Central Columbia.
View the complete PIAA District IV Softball playoff brackets.