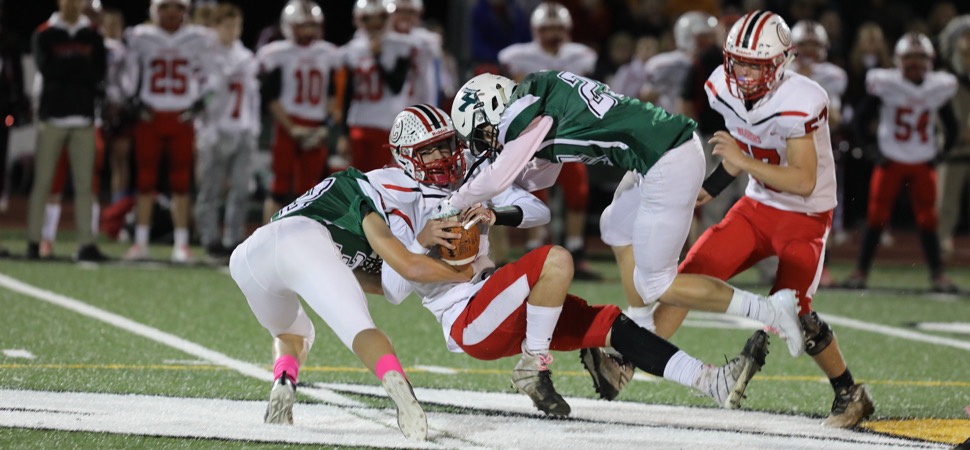 Hornets top undefeated Warriors, 40-6
By: Ed Weaver | NTL Sports | October 12, 2019 | Photo courtesy Dr. Robert Bair
The Wellsboro Varsity Football team handed the visiting Canton Warriors their first loss of the season with a 40-6 victory on Friday, October 11 during Senior Night.
Last week head coach Matt Hildebrand said Friday's game was marked on his calendar since last season. Friday night the Hornets took care of business for their sixth straight win of the season.
"It was a day off of school so I was worried about that but very happy how our guys responded. They came in focused and ready to play, the guys executed in all phases of the game and I am really proud of our defense. I thought stopping (Uriah) Bailie, a lot of people said he couldn't be stopped, our guys did a great job at that. Ben Knapp had a couple of big catches for them, but for 6 points on that team I couldn't be happier."
After holding the Warriors after a 9-play opening drive and forcing a punt Wellsboro took over at their 21 and only needed a handful of plays to find the end zone. Sophomore Isaac Keane first connected with senior Logan Henry for 24 yards near midfield, then Keane hit Aidan Hauser for a 56-yard score with 2:23 left in the opening quarter.
Wellsboro remained up 7-0 until the beginning of the second quarter when Bailie capitalized on a blown coverage to connect with Cooper Kitchen on a 39-yard touchdown pass. Knapp's extra point was no good and the Hornets maintained a 7-6 lead. After a squib kick Wellsboro took over at midfield and turned to their ground game with Hauser and senior Silas Wagaman to move the ball down to the Canton 27. Keane then connected with junior Zach Singer down to the 4, then threw his second touchdown pass of the night to Hauser, putting the Hornets up 14-6.
The Warriors mounted a drive, after a failed Wellsboro fourth down conversion, at their own 43 Bailie connected with Knapp down to the Wellsboro 8. From that point, however, Canton went backwards to the Wellsboro 15, then made a costly mistake that completely swung the game's momentum in favor of Wellsboro. Sophomore Ryan Sweet stepped in front of a Bailie pass at the Wellsboro 10, then sprinted 90 yards the opposite direction with 3 seconds remaining to put Wellsboro up 21-6.
"That was the turning point," Hildebrand said. "That was huge and really swung momentum. We put Ryan in a spot this week and asked him to step up and start and that was a huge play."
Wellsboro rode their momentum the rest of the game as they added 3 more scores to run away with the win. As the second half started Hauser scored just 12 seconds in on a 60-yard run, then later with 2:02 to go, Keane threw his third touchdown of the evening, this time to Singer from 21 yards out, to make it a 33-6 spread. Wellsboro's final touchdown came as the fourth quarter started as Hauser broke off a 22-yard run.
The Hornets finished the game with 500 yards of total offense, led by Keane with 212 yards on 10-of-17 passing and 3 scores. Hauser finished the night with 189 yards rushing and 2 touchdowns on 24 carries to go along with 3 receptions for 89 yards and 2 scores. Keane also finished with 50 yards on 6 attempts and senior Alex Burrell ran 4 times for 19 yards. Singer finished with 80 yards receiving on 3 catches, Henry caught 2 passes for 32 yards, and Wagaman caught 2 passes for 11 yards.
Senior Clayton Orsborn led the Hornet defense with 7 tackles, Henry and fellow senior Tyler Hancock recorded 4 each, and freshman Joe Brown had 3 tackles and a sack.
Next week the Hornets (7-1, 5-1 NTL Large School Division) return home for the final time in the regular season in a rare Saturday afternoon game against Wyalusing.
"It's a change of routine for our guys but I'm comfortable with that with these guys," concluded Hildebrand. "There's a lot of senior leadership in this group and they come out ready to play and I'm confident with what we can do next week."