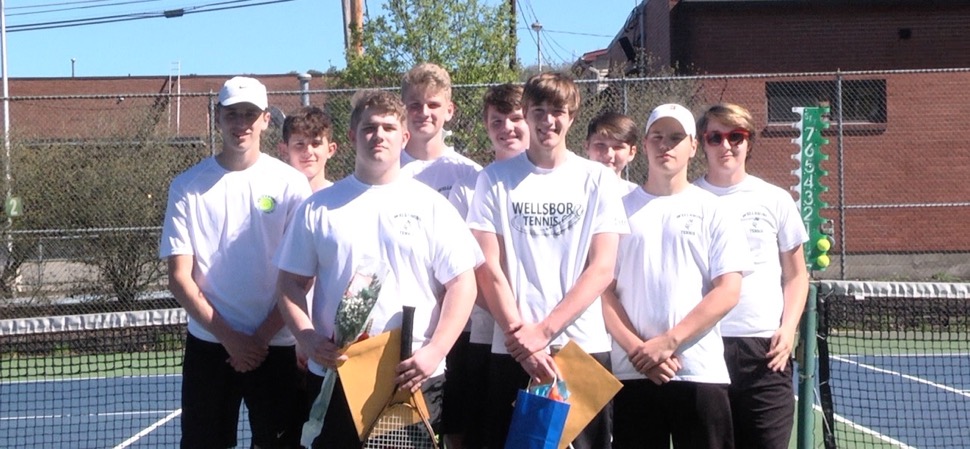 Hornets top Montoursville 5-2 on Senior Night
By: Ed Weaver | NTL Sports | April 25, 2019 | Photo courtesy The Home Page Network
The Wellsboro Boys Tennis team hosted Montoursville for Senior Night on Wednesday, April 24, coming home with a 5-2 victory.
"Our team played well against a seasoned Montoursville team," coach Margery Hoffman said. "There were many long rallies and good finishing shots. This match helped build our confidence for the Team District Tournament."
Singles Results
Nate Redell def. Andrew Strapp 6-1, 6-0
Will Poirier def. Ben Watts 6-4, 6-1
Eli Ward def. Ethan Ryan 6-4, 6-4
Luke Leach def. Levi Miller 6-0, 6-3
Zach Singer def. Cole Peterson 6-0, 6-3
Doubles Results
Redell/Poirier def. Watts/Ward 6-1, 6-3
Isaac Barrett/Grayson Simms (M) def. Leach/Joseph Doty 2-6, 6-2, 1-0 (10-7)
The win improves the Hornets' record to 10-1 (5-0 NTL) on the season. The team is back in action this afternoon at Towanda for their final league match of the season then travel to Addison on Monday for their final regular season match.