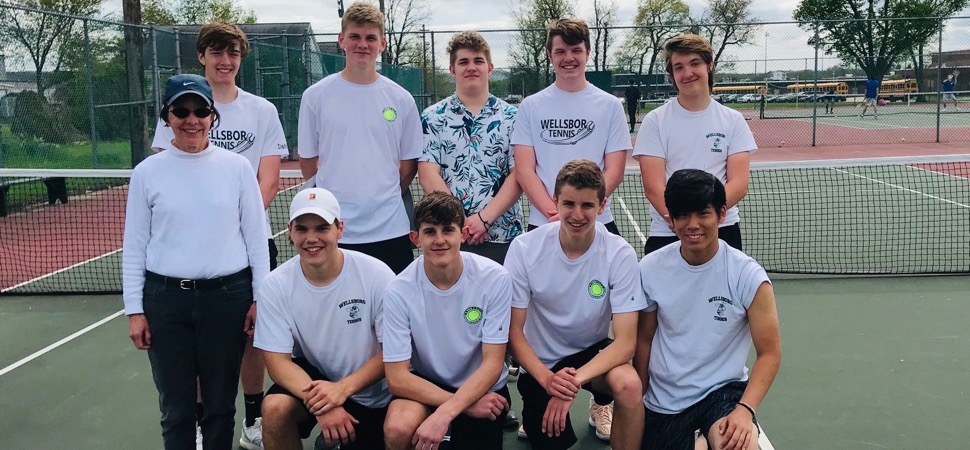 Hornets Tennis tops Loyalsock to open District play
By: Ed Weaver | NTL Sports | May 1, 2019 | Photo courtesy Maureen Poirier
The Wellsboro Boys Tennis team knocked off #6 seed Loyalsock in the opening round of the PIAA District IV team tournament at Hughesville on Tuesday, April 30.
"We won in a real cliffhanger," head coach Margery Hoffman said. "After 1st doubles lost in the third set, the score was 2-2 and came down to 3rd singles. Ethan Ryan was up 6-3, 4-2 which quickly became 4-4. He won it 6-4 with a big burst of adrenaline.
"The team played their hardest at all lines. I am very happy for them," Hoffman concluded.
Singles Results
Nate Redell def. Connor Rude 6-3, 6-0
Will Poirier def. Jake Bomboy 7-6 (7-1), 6-0
Ethan Ryan def. Quinn Deitrick 6-3, 6-4
Doubles Results
Ben Wescott/Ty Whitmoyer (LT) def. Luke Leach/Zach Singer 4-6, 6-3, 7-5
Alek Hamilton/Trace Haller (LT) def. Dustin Benedict/Joseph Doty 1-6, 6-2, 6-4
The win improves the Horents' record to 13-1 and will resume team play on May 7 at South Williamsport High School against #2 seed Lewisburg in the PIAA District IV Boys Tennis team tournament semi-finals.