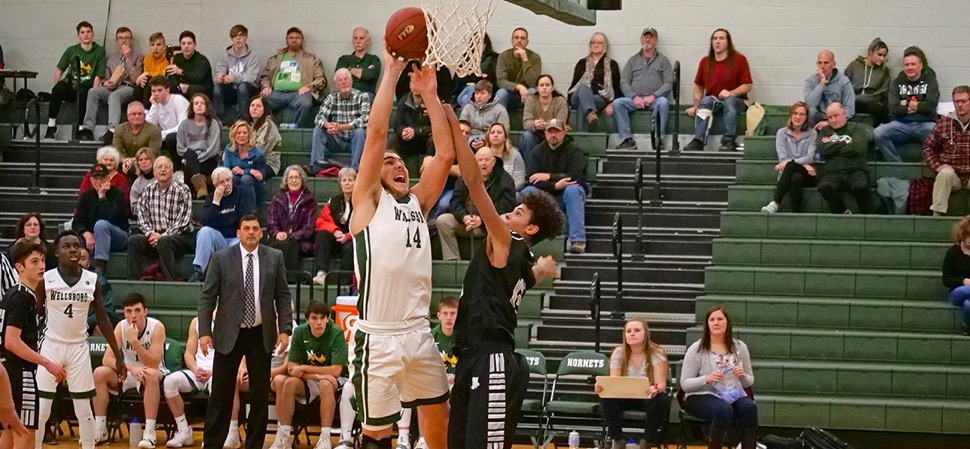 Hornets survive late Athens rally
By: Ed Weaver | NTL Sports | January 17, 2019 | Photo courtesy Dr. Robert Bair
The Wellsboro Varsity Boys Basketball team survived a late rally by the Athens Wildcats and hung on for a 61-48 win on Wednesday, January 16.
Down 48-27 entering the fourth quarter the Wildcats caught fire for 21 points. Aaron Lane, held to just 5 points through the first three quarters of play, hit two deep three-pointers and scored 12 points in the quarter to spark the rally. Combined with buckets by Damien Hudson, JJ Babcock, Benny Gambrell and Keegan Rude, the Wildcats outscored Wellsboro over the final 8 minutes but were unable to fully dig themselves out of the hole from the first half.
Early on the Hornets' defense held Athens to just 3 points in the first quarter, and 12 for the entire first half, as they built a 30-12 lead at intermission. As the third quarter started the Hornets kept up their offensive intensity with an 18-point quarter.
Four Hornets scored in double figures on the night led by senior Brandyn Tuttle. Tuttle scored a game-high 22 points, pushing him past the 800-point threshold for his career, and recorded 12 rebounds for his 8th double-double of the season. Sophomore Joseph Grab finished with 11 points and seniors Andrew Brelo and Hunter Brown each added 10 points.
Senior Tanner Button chipped in with 6 points and junior Andrew Larson added 2 off the bench.
Lane led Athens with 17 and Gambrell contributed 14.
Athens won the JV game 47-24 to start the night. Freshman Ryan Sweet led the Hornets with 6 points.
The win improves the Hornets' record to 11-2 overall and keeps them undefeated at 8-0 in the NTL Large School Division. Both teams were undefeated coming into last night's game. Wellsboro is back in action and begins a five game road stretch as they travel to Troy on Friday, January 18.