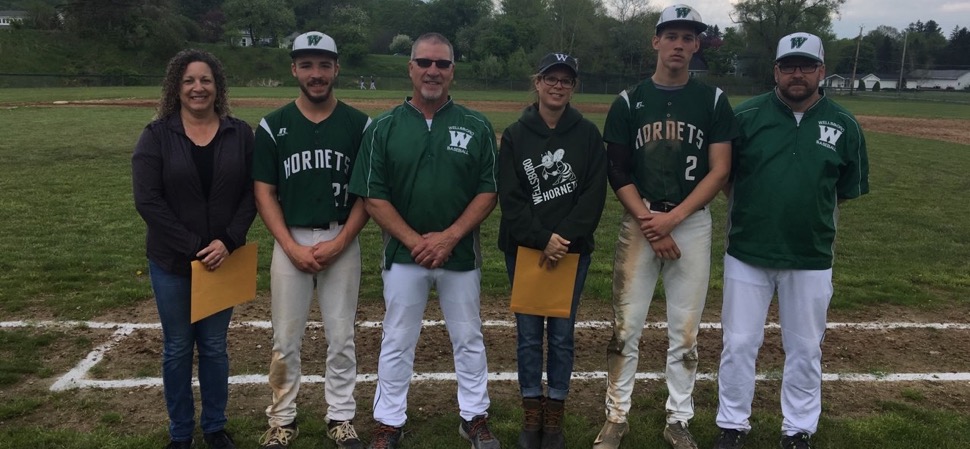 Hornets split doubleheader with Wyalusing and Danville
By: Ed Weaver | NTL Sports | May 18, 2019
The Wellsboro Varsity Baseball team split a doubleheader with Wyalusing and Danville to end their regular season on Friday, May 17.
The game one the Hornets beat Wyalusing 17-3 in 4 innings. Wellsboro scored 3 runs in the 1st, 8 in the 2nd, 1 in the 3rd, then finished with 5 runs in the 4th to finish the game.
Junior Carson Davis went a perfect 4-for-4 at the plate with a double and 3 RBIs and junior Silas Wagaman was 3-for-3 with a double and 3 RBIs. Junior Billy Lechler, freshman Isaac Keane, senior Taynton Repard, and sophomore Kaeden Mann were all 2-for-4 and junior Lucas Citrino was 1-for-3. Repard also added a double and 3 RBIs, Keane had 3 RBIs, Lechler had 2 RBIs, and Mann had 2 RBIs.
Senior Cam Tennis drew 3 walks during the game and scored 3 runs.
Sophomore Zach Rowland started on the mound and pitched 4 and 1/3 innings, giving up 3 runs on 2 hits with 7 strikeouts. Keane came on in relief for the final 2/3 of an inning and allowed a hit.
In the second game the Hornets dropped a 5-3 decision to Danville. The Ironmen jumped out to a 4-0 lead after the top of the 5th when Citrino drove in Davis to cut it to 4-1. Wellsboro added another run in the 6th as Mann doubled then scored as Lechler hit into a fielder's choice to cut Danville's lead to 4-2.
The Ironmen added an insurance run in the top of the 7th to push the lead back to 5-2. Wellsboro's bottom of the 7th rally fell short. Keane led off the inning with a double and scored on a Citrino sac fly to cut it to 5-3, but the Hornets were unable to add anymore offense.
Keane went 2-for-3 at the plate to lead Wellsboro while Citrino, Rowland, Davis, and Mann were all 1-for-3. Repard threw a complete game on the mound, allowing 5 runs (4 earned) on 8 hits with 3 walks and a strikeout.
Wellsboro finishes their regular season at 10-9 and will await their match up for next week's District IV Class AAA playoffs.