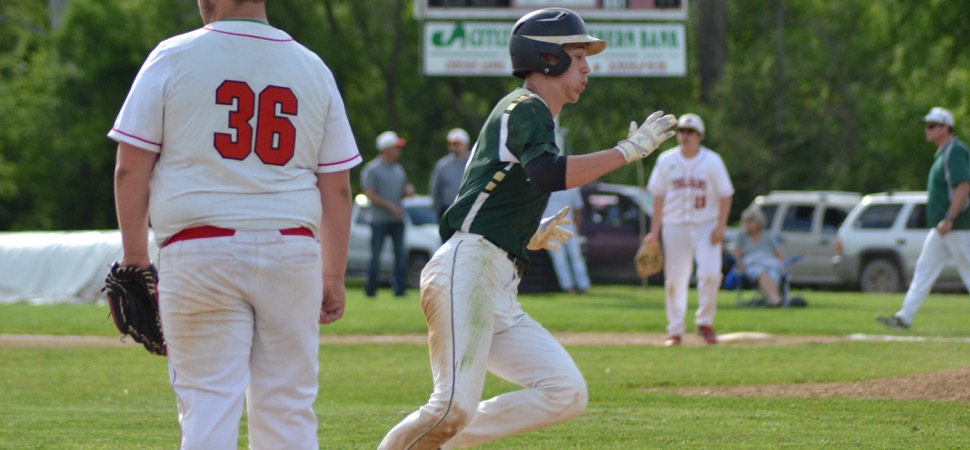 Hornets shutout Troy to open District 4 playoffs
By: Ed Weaver | NTL Sports | May 21, 2019 | Photo courtesy Chrissy Tennis
A 6-run 1st inning led the Wellsboro Varsity Baseball team to a win over Troy in the PIAA District IV Class AAA play-in game at Troy on Monday, May 20.
The #9 Hornets shutout #8 Troy 11-0 to advance to the quarterfinals on Wednesday, May 22 against #1 Montoursville.
"The guys played well this past weekend and we carried it over into today's game," head coach Matthew Perry said. "Hopefully this carries into Wednesday, but we're going to have to play our A-game to beat them. They're a really good team."
Wellsboro went to work right away as senior Cam Tennis led off with a double then scored on an RBI single by junior Billy Lechler after sophomore Kaeden Mann drew a walk. Junior Carson Davis then snuck a ground ball past 1st base to score Mann to make it 2-0, then freshman Isaac Keane doubled to score both Lechler and Davis to put the Hornets up 4-0. Senior Taynton Repard then singled in the Hornets' next at bat to score Keane putting Wellsboro up 5-0 with 0 outs.
After a base hit by junior Lucas Citrino, freshman Darryn Callahan hit a sac fly that scored Repard to make it 6-0 before the inning came to a close.
Wellsboro added one run in the top of the 2nd to further increase their lead. After Mann reached on error to lead off the inning, then later advanced to 3rd on an errant throw and a ground out by Lecherl, Davis drove in Mann for his second RBI of the afternoon.
Following a scoreless 3rd, the Hornets added 4 more runs in the 4th to close out the game. Tennis led off the inning with a base hit then scored on a Lechler grounder to center after he stole 2nd earlier in the previous at bat. Lechler later scored on a Repard fielder's choice to make it 9-0, a Citrino single scored freshman Dylan Abernathy (pinch running for Davis), and a single by Callahan scored Repard to make it 9-0.
Davis continued his hot streak at the plate with a 3-for-3 performance with a walk, 2 RBIs and a run scored. Lechler finished 3-for-4 with 2 RBIs and 2 runs scored, Tennis and Keane were each 2-for-4 with Keane driving in 2 runs, and Citrino, Callahan, and Repard all added hits.
Davis went the full 5 innings for his 5th win of the season. Davis struck out 8 and scattered 3 hits on 72 pitches.
"He threw strikes, a lot strikes," said Perry of Davis. "He was able to work ahead in the count, he forced Troy to hit his pitch and we played great defense behind him."
The win improves the Hornets to 11-9 overall as they prepare to face top-seeded Montoursville on Wednesday.