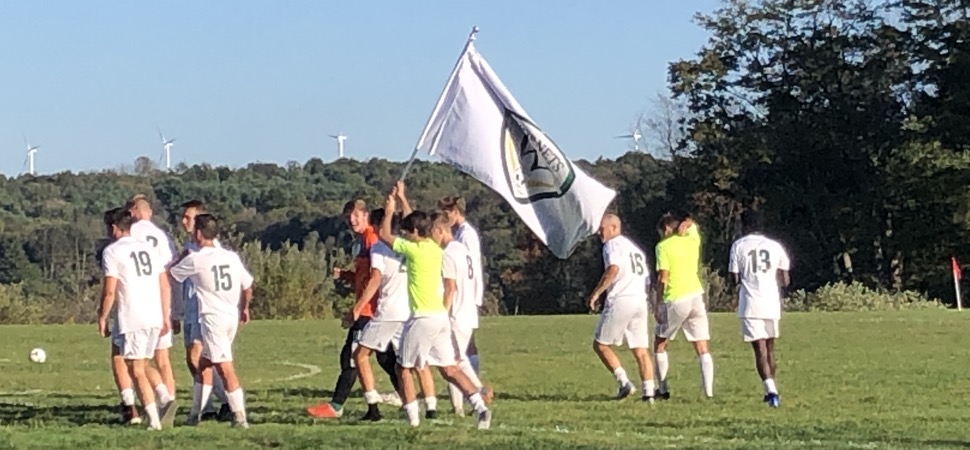 Hornets shut out North Penn-Liberty
By: Ed Weaver | NTL Sports | September 18, 2019
In their 5th straight road game of the season the Wellsboro Varsity Boys Soccer team shutout North Penn-Liberty 6-0 on Tuesday, September 17.
"Liberty is a young team and although we had opportunities, we really struggled to finish our shots and take control of the match in the first half," head coach Todd Fitch said. "Fortunately, the boys started the second half with a quick goal, kept Liberty from creating an attack, and were able to secure the match in the second half."
Wellsboro scored in the 14th minute as junior Luke Pondo converted a pass from junio Kaeden Mann to put the Hornets up early. Later in the 2nd period they turned up the heat with 5 goals.
Pondo scored his 2nd goal of the game just 17 seconds into the half off an assist by junior Will Poirier, then later in the 22nd minute junior Joseph Grab put the Hornets up 3-0 on an unassisted goal, followed by a goal by Mann (from Poirier) to make it 4-0.
The Hornets' final two goals were scored by Alvaro Garza-Seijo, one on an assist from Mann and the other on an assist from Poirier, putting Wellsboro up 6-0.
Wellsboro took 19 shots on goal and junior Ethan Ryan made 5 saves in goal for a clean sheet.
The win pushes the Hornets back over .500 on the season to 3-2 (2-1 NTL). The team is back in action on Thursday, September 19 at Troy.