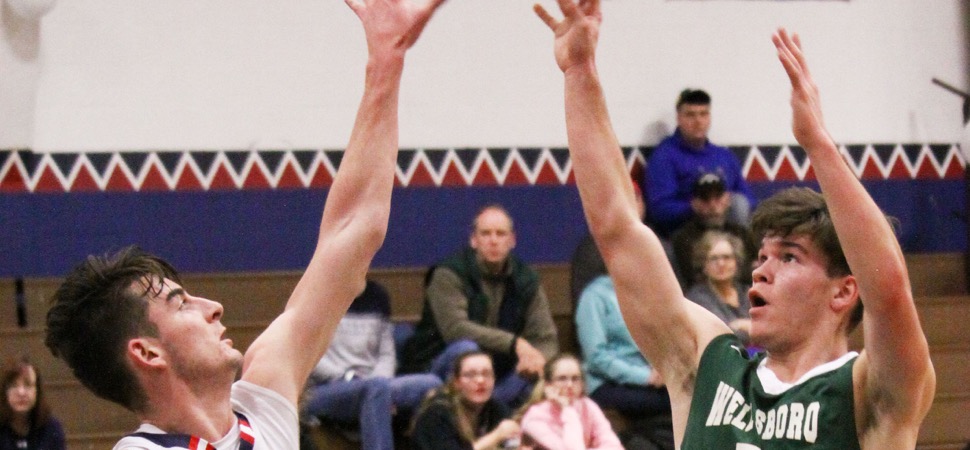 Hornets run past Sayre, 73-33
By: Ed Weaver | NTL Sports | January 10, 2019 | Photo courtesy Chris Manning
The Wellsboro Varsity Boys Basketball team ran away in the first half for a 73-33 win over Sayre on Wednesday, January 9.
"I thought our defensive pressure bothered Sayre and forced turnovers which led to transition opportunities," head coach Chase Kriner said. "We need to continue to take it one game at a time and focus on cowanesque valley on Friday at home."
The Hornets ran out to an early 18-10 lead after the opening quarter then poured on 23 points in the second quarter, led by 6 points from senior Hunter Brown and 5 from sophomore Joseph Grab to take a 41-16 lead at halftime.
Wellsboro kept the pressure on during the third quarter as they outscored the Redskins 17-11, then ran numerous subs in and out over the course of the final 8 minutes as they secured their 8th straight win.
Senior Brandyn Tuttle led all scorers on the night with 24 points and grabbed 11 rebounds for his 6th double-double of the season. Tuttle has now surpassed 100 rebounds for the season to put him at 557 for his career to go along with 742 career points.
Grab finished with 16 points and 5 steals, Brown ended the night with 11 points and 7 rebounds, and senior Andrew Brelo scored 6 points while grabbing 5 rebounds, blocking 4 shots, making 4 steals and 3 assists. Junior Andrew Larson added 4 points off the bench, senior Tanner Button and junior Ty Morral scored 3 points each, and senior Cam Tennis and juniors Daniel Mitchell and Karter Witmer all added 2 points each.
Button added 5 rebounds and 3 assists and senior Holden Kennedy contributed 4 rebounds and 4 assists.
In the JV game the Hornets came from behind for a 48-46 win after being down 10 to start the fourth quarter. With under 4 seconds to go and the Redskins at the foul line, freshman Ryan Sweet tipped a missed foul shot to freshman Liam Manning for the go-ahead bucket. Manning finished with 16 to lead the Hornets and Witmer added 10.
The win improves the Hornets' record to 8-2 overall and keeps them undefeated at 6-0 in the NTL Large School Division standings. Wellsboro will be back in action at home this Friday, January 11 as they host Cowanesque Valley.