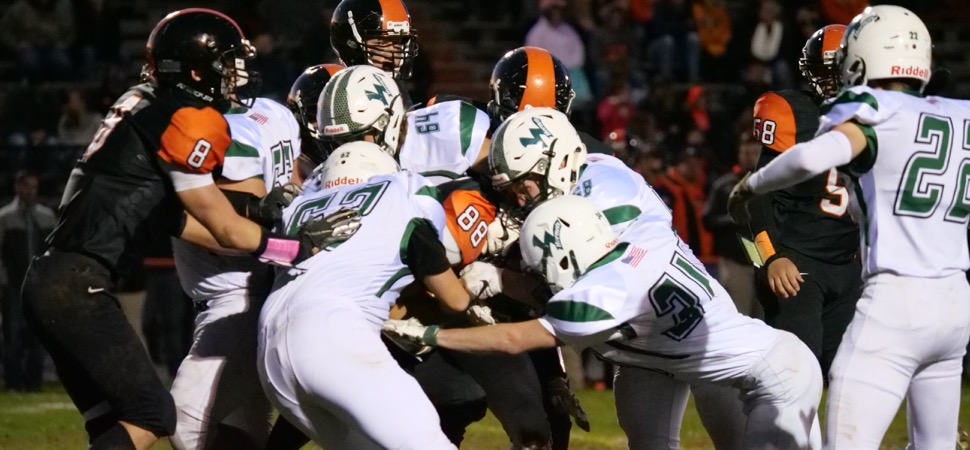 Hornets ruin Milton's Homecoming, 47-7
By: Ed Weaver | NTL Sports | October 5, 2019 | Photo courtesy Dr. Robert Bair
The Wellsboro Varsity Football team rolled to their 5th straight win of the season with a 47-7 win on the road in Milton on Friday, October 4 during the Black Panthers' Homecoming.
For the majority of the season offense has been their key to success. Friday night, however, they went back to their roots and dominated on the defensive side of the ball, forcing 4 turnovers (3 fumbles and 1 interception) while holding the Black Panthers to just 83 yards of total offense.
"I'm really happy with our team right now," head coach Matt Hildebrand (63-13, 51-7 NTL) said. "We get better every week as a team and I don't think we've fallen back or have stayed the same team, if we continue to progress that's obviously what you want to do going late into the year and continue to get better as a football team come playoff time."
After Milton fumbled the opening kickoff the Hornets went to work at the Panther 36, put together a 4-play drive the ended in a 11-yard pass from sophomore Isaac Keane to senior Logan Henry not even two minutes into the game. After holding Milton to a 3-and-out Wellsboro took over at the Milton 44 for another scoring drive. A 24-yard pass from Keane to senior Silas Wagaman got the ball down to the 2, then after an offsides penalty, senior Aidan Hauser found the end zone for the first time from a yard out, putting Wellsboro up 12-0.
Milton fumbled the ball away on their following drive for the 2nd time, giving Wellsboro the ball at the 27. From there it took Wellsboro just 3 plays, all by Hauser, to find the end zone. With 5:31 remaining Hauser hit pay dirt for the 2nd time from 8 yards out to put Wellsboro up 19-0 after junior Zach Singer's extra point.
The Hornets ended the quarter with another touchdown with 52 seconds left. After working their way down to the 3-yard line, Keane found senior Alex Burrell to make it 26-0.
Another Milton fumble set Wellsboro back up at the 30 for another score. Again Hauser scored, this time from 16 yards out, to increase the Hornets' lead to 33-0. Wellsboro scored once more before the half expired, again on Hauser's 4th rushing touchdown of the game from 9 yards away, to make it 40-0 at halftime.
Wellsboro struck one final time just as the second half started as Wagaman returned the opening kick 81 yards to the house to push the lead to 47-0. Milton scored midway through the quarter for the game's final score on a 25-yard pass from Ethan Rowe to Kenley Caputo.
The Hornets compiled 346 yards of total offense on the night, 170 through the air and 176 on the ground. Keane finished 10-for-18 for 110 yards and 2 scores and freshman Conner Adams completed his only pass for 60 yards.
"Tonight was a big night for Isaac," continued Hildebrand. "He looked very confident out there this week. We worked on a lot of the throws, driving the ball in there with some more velocity, and just being confident with it. I think you could see when the ball left his hand you knew where it was going and he was putting it on guys tonight. Our passing at times setup the run, they had 5 linebackers in the box and keying on Hauser, so being able to spread them out a bit because of the passing game."
Hauser finished with 118 yards on 19 carries and 4 touchdowns, giving him 1,394 yards for the season and 24 touchdowns (now 2nd all-time for a single season). Keane also compiled 36 yards on the ground and Burrell finished with 34 yards on just 3 carries.
Burrell led the receiving corps with 77 yards on 4 grabs while Henry had 4 catches for 41 yards and Wagaman hauled in 3 passes for 52 yards.
Senior Clayton Orsborn had 4 tackles and recovered a fumble, senior Andrew Larson and sophomore Ryan Sweet each made 3 tackles, and Henry had 2 tackles and a sack. Adams also had an interception in the second half.
The win improves the Horents' record to 6-1 (4-1 NTL Large School Division) as they get ready to host the undefeated Canton Warriors (7-0, 7-0 NTL Large School Division) next Friday night in Wellsboro as part of Senior Night.
"You couldn't ask for anything better with how this game is shaping up," Hildebrand concluded. "They got us last year and I think the guys are definitely ready for it. We've had this one circled on the calendar from before the season started for sure. Getting through tonight, and not looking past Milton, now we can turn our focus to Canton, I think our guys will be ready and I think the fact that its Senior Night will add that much more."