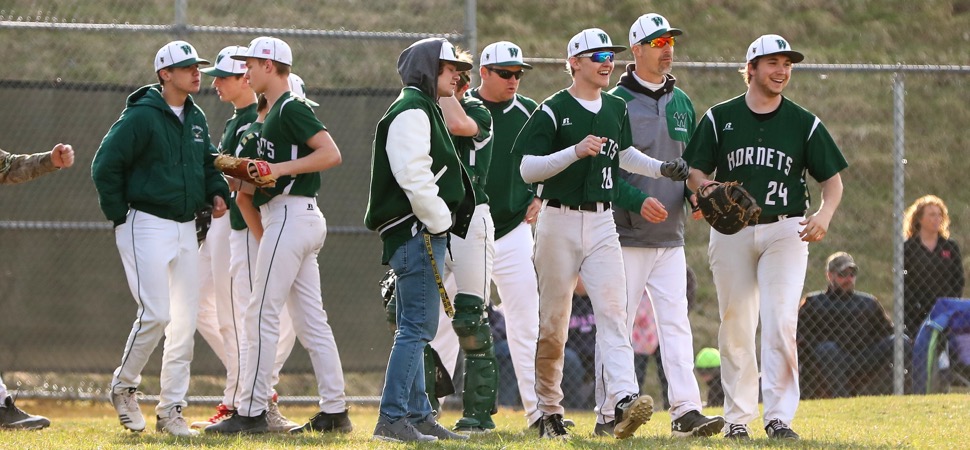 Hornets rally to top Mansfield, 16-10
By: Ed Weaver | NTL Sports | April 12, 2019 | Photo courtesy Sarah Wagaman
The Wellsboro Varsity Baseball team rallied from an early 8-4 deficit to top rival North Penn-Mansfield 16-10 on Thursday, April 11.
The Hornets started out with 4 runs in the top of the first by senior Cam Tennis, freshman Isaac Keane, sophomore Kaeden Mann, and senior Taynton Repard but the Tigers answered right back in the bottom half of the inning with 8 runs to regain the lead.
Wellsboro then rallied in the top of the 2nd with 6 runs to retake the lead. Keane, Mann, junior Carson Davis, Repard, junior Lucas Citrino, and sophomore Zach Rowland scored to put Wellsboro up two, 10-8. Wellsboro added a run by Davis to increase their lead to 11-8, but again the Tigers clawed their way back into the game with two runs, one by Parker Brewster and one by Logan Choplosky, to cut Wellsboro's lead back to 11-10.
From that point on the Hornets held North Penn-Mansfield scoreless while they added five more runs. Tennis scored in the 4th inning to push the lead to 12-10, freshman Darryn Callahan scored in the 5th to make it 13-10, then Wellsboro scored 3 more runs in the top of the 7th by Callahan, Citrino, and junior Silas Wagaman.
Tennis led Wellsboro at the plate as he went 3-for-6 with a double, 2 RBIs, and 2 runs scored. Wagaman, Callahan, and Davis were all 2-for-5 while Keane and Mann were 2-for-6. Citrino, Repard, and Rowland all added hits.
Rowland and Tyler Fletcher both pitched for Wellsboro. Fletcher went 2/3 of an inning and allowed 7 runs (6 earned) on 4 hits and 2 walks. Rowland pitched for 6 1/3 innings to score the win as he struck out 6 batters, allowed 5 hits, 2 walks, and 3 runs (1 earned).
Logan Garverick went 2-for-3 at the plate with 2 RBIs to lead the Tigers while Brion Smith was 2-for-4 with an RBI. Bryce Wilson, Gage Martin, Parker Brewster, Eli Shaw, Dylan Williamson, and Brandyn Choplosky all added hits. Logan Tokarz, Wilson, Brewster (2), Blaze Deitrick, Jacob Evans, Williamson, Garverick, Smith, and Choplosky all scored runs for Mansfield.
The win improves the Hornets' record to 3-1 (3-1 NTL Large School Division) while the Tigers fall to 2-4 (2-2 NTL Large School Division). The team is back in action on Saturday, April 13 on the road against Shikellamy.