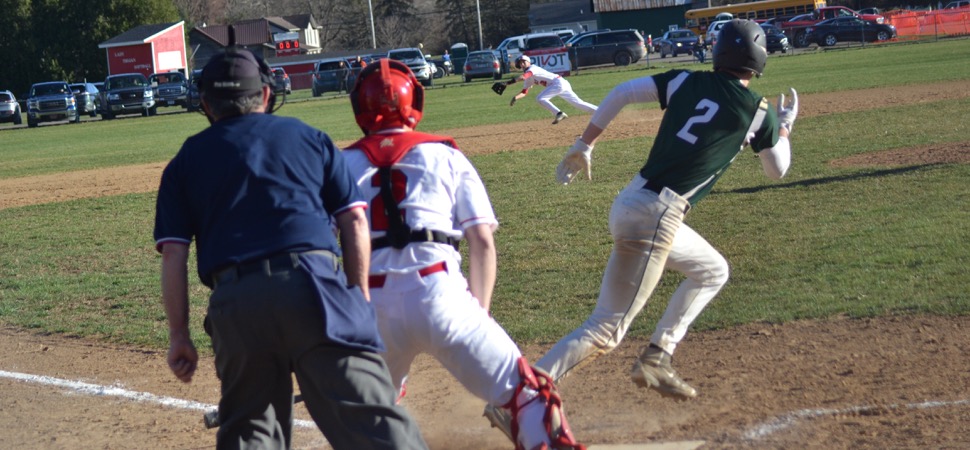 Hornets fall to Troy, 9-5
By: Ed Weaver | NTL Sports | April 10, 2019 | Photo courtesy Chrissy Tennis
The Wellsboro Varsity Baseball team dropped their first game of the season on the road in Troy on Tuesday, April 9.
The Trojans won 9-5 thanks to a 6-run third inning. Wellsboro started out with an early 1-0 lead after the first as senior Cam Tennis reach on an error then later scored. After a 1-2-3 inning in the top of the 2nd the Hornets increased their lead in the third.
Sophomore Kaeden Mann was hit by a pitch to reach base, then back-to-back singles by Tennis and junior Billy Lechler and a double by junior Carson Davis had the Hornets up 3-0.
That's when the Trojans took over. Troy plated six runs in the bottom of the third to take over the lead then added two more runs in the bottom of the fourth and their final run in the bottom of the fifth to lead 9-3.
Wellsboro got two runs back in the top of the seventh, from Tennis and sophomore Alex Moore, but ran out of time to complete the comeback.
Davis led the Hornets at the plate with a 2-for-3 performance with 2 RBIs. Tennis and junior Silas Wagaman were both 2-for-4, with Tennis scoring 3 runs, and Lechler was 1-for-3 with 2 RBIs.
Davis pitched 3 2/3 innings, allowing 8 runs (2 earned) on 7 hits and walk. Freshman Isaac Keane pitched 2 1/3 innings, allowing one run on one hit.
The loss drops the Hornets to 2-1 overall and 2-1 in the NTL Large School Division standings. The Hornets are back in action on Thursday, April 11 at rival North Penn-Mansfield.