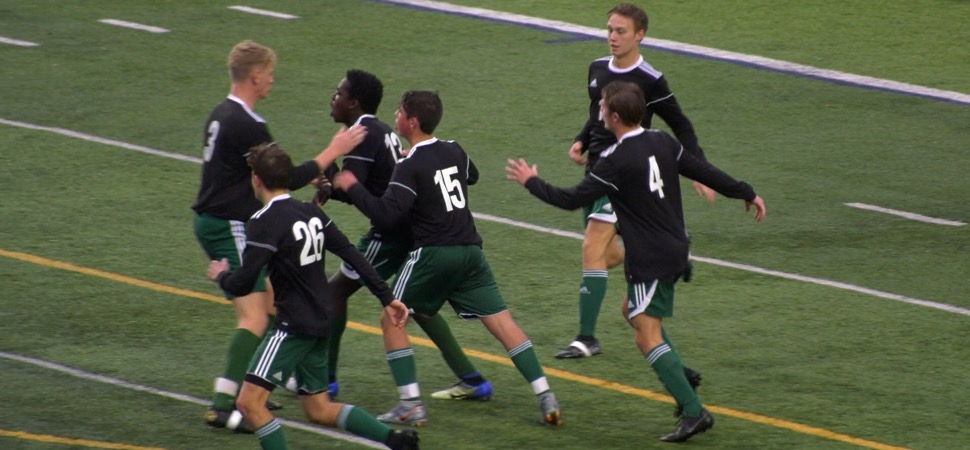 Hornets edge Danville 2-1 to open Districts
By: Ed Weaver | NTL Sports | October 27, 2019 | Photo courtesy The Home Page Network
The Wellsboro Boys Soccer team opened post-season play on Saturday, October 26 with a 2-1 victory over Danville in the District IV quarterfinals at Central Columbia High School.
The game was scoreless until just over 2 minutes to play in the 1st period. The Hornets got possession of the ball deep in their own territory, then junior Will Poirier advanced the ball up field to junior Kaeden Mann. Mann tracked the ball down, came up with it off the bounce and sent a shot past the keeper, putting Wellsboro up 1-0.
The game remained 1-0 in favor of the Hornets until just past the midway point of the 2nd period when the Ironmen struck. Following a Hornet penalty Danville had the opportunity for a direct kick, and converted on a Nick Cera header to knot the game up at 1-all. Wellsboro would rally with 7:29 left to play as junior Joseph Grab scored his own header, off a Poirier corner kick, to put the Hornets back up 2-1.
"It came down to execution," head coach Todd Fitch said. "We had an opportunity when Danville had a new keeper in. We had some breaks that gave us opportunities that we capitalized on. We had a set play with a new keeper fresh off the bench so those two things played to our advantage. We're walking out of here with a 2-1 results but it could've went either way, it was that kind of a game."
The Hornets outshot Danville 10-8 on the afternoon while the Ironmen had a 3-2 edge in corner kicks.
Junior Ethan Ryan came up big down the stretch making 5 of his 8 saves on the afternoon in the 2nd period while allowing the 1 goal.
The win improves the Hornets' record to 14-5 and sets up a rematch of last year's District IV quarterfinal match with Lewisburg on Tuesday, October 29 at the Balls Mills Complex in Williamsport. Lewisburg is the top seed in this year's AA tournament.
"There's a reason you play the game because anything can happen but we know what we're up against," Fitch concluded. "We're going to go out, take a look at things and we're going to give them everything we have and see what happens at the end."