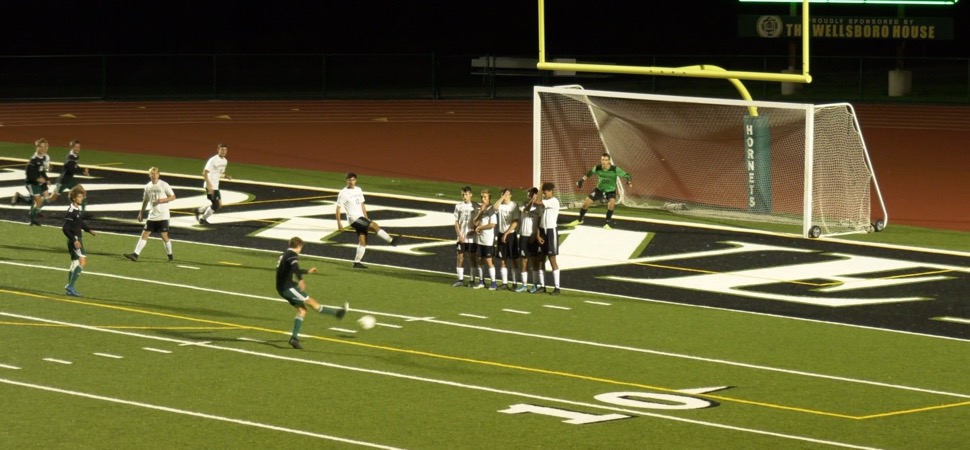 Hornets drop 2-1 match to Athens
By: Ed Weaver | NTL Sports | October 11, 2019 | Photo courtesy The Home Page Network
The Wellsboro Varsity Boys Soccer team suffered a heartbreaking, 2-1 loss to rival Athens, on Thursday, October 10.
The Hornets struck first in the game, in the 22nd minute, as junior Kaeden Mann was tracking down a ball near the keeper box, and was fouled. Junior Will Poirier took the direct kick and placed it just past the Wildcats' defensive wall to score.
The Wildcats later tied the game up just before halftime. With 1:59 to play Aaron Lane took advantage of a miscue, tracked down the ball and sent a shot into the back of the net to tie the game. Once the 2nd period started another quick Wildcat goal, this one scored by Jesse Sumner, not even two minutes in, broke the tie to give the Wildcats the win.
Athens had a 12-5 advantage in shots on goal over Wellsboro, and also edged the Hornets 4-2 in corner kicks.
Junior Ethan Ryan recorded 9 saves on the night.
"It was a great match against a top level team," head coach Todd Fitch said. "The boys played their hearts out and you always hope to see them get the result as a reward for their effort. It didn't happen on the scoreboard for us tonight but I have a feeling that there will be other opportunities in the weeks to come."
The loss drops the Hornets to 11-4 (8-2 NTL). The team will be back in action on Saturday, October 12 as they host Bloomsburg at 1:00 p.m. during Senior Day.