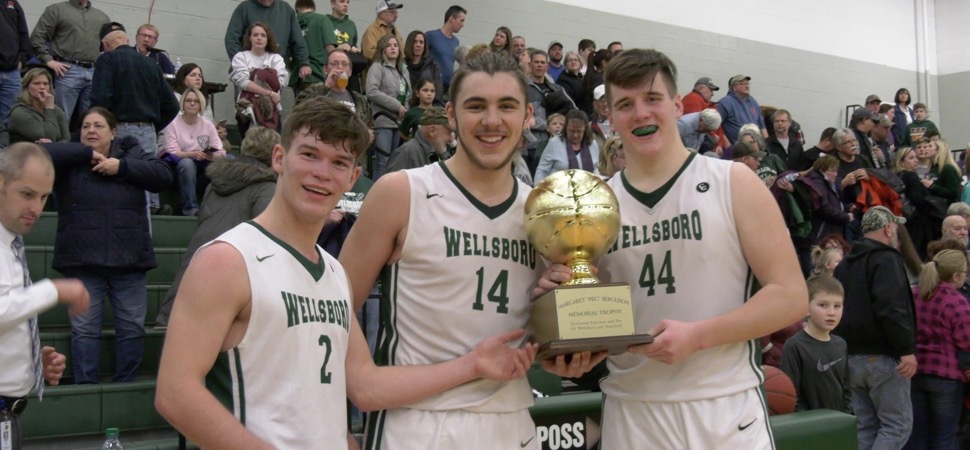 Hornets claim 2nd straight Berguson Trophy game
By: Ed Weaver | NTL Sports | February 3, 2019 | Photo courtesy The Home Page Network
For the second consecutive year the Wellsboro Varsity Boys Basketball team defeated rival North Penn-Mansfield for the Margaret (Peg) Berguson Memorial Trophy.
After escaping with a 42-40 win at Mansfield's court back on January 22 the Hornets took care of business on their home court with a 58-36 win. The win was the Hornets' 7th straight over their rivals dating back to February 2016.
"It was a super win. It was a dog fight over there. I knew it was going to be a dog fight tonight but we just made a few more shots and shot really well from the foul line," coach Todd Outman said.
Wellsboro finished 19-of-22 from the charity stripe for the game and shot 12-of-15 in the fourth quarter.
"Bringing home the trophy means a lot," continued Outman. "They have pretty much dominated that since and tonight is only the second time we've won. It was a goal of the boys when we started the season and luckily we pulled it out tonight. I'm so proud of these guys and I know Coach Kriner was as well. I think everyone thought Wellsboro was going to have a down year this year because we lost four starters, and I thought that was something that the kids really wanted to try to prove that they had just as much talent to be just as successful and they're doing that. They're undefeated in the league, they're 16-2 right now sitting in a good spot for districts, so I'm happy for them. They've put the time in and they've put themselves in this position and hopefully they can continue on."
The Tigers started off with an early lead after the first quarter, 11-9, as they were able to hold the Hornets to just two field goals. The second quarter, however, was a different story. Wellsboro's offense picked up as they dropped 18 points total, led by 7 points from sophomore Joseph Grab, and held North Penn-Mansfield to just 9 to build a 27-20 lead at halftime. The Hornets won the third quarter 13-9, with 5 of those points coming from Grab to lead 40-29, then outscored the Tigers 18-7 over the final 8 minutes to claim their 16th straight victory.
"It feels great to win tonight," senior Brandyn Tuttle said afterwards. "We finally captured the trophy last year after not having it and it feels good to keep it at home. Last year's seniors worked so hard to get it here and we came into tonight's game saying that this was our league championship and we deserve to have this trophy."
Four Hornets scored in double figures on the evening led by senior Andrew Brelo with 13. Tuttle, Grab, and senior Tanner Button all scored 12 points each, senior Hunter Brown added 6 points, senior Cam Tennis added 2 points, and senior Holden Kennedy pitched in a point.
Tuttle finished with 10 rebounds for his 32nd career double-double, and moved into 5th place all-time in Wellsboro boys basketball history with 656 career rebounds, passing Steve McKnight (651). Brown added 7 rebounds and 3 blocked shots, Grabed had 4 rebounds and an assist, Brelo, Kennedy and Button all had 2 assists, Tuttle added 5 steals, and Kennedy also added 3 rebounds.
Mansfield won the JV game 49-41 to start the evening. Curtis Craig scored 18 and Dominic Garverick added 12 to lead the Tigers. Junior Karter Witmer led Wellsboro with 14 and freshmen Isaac Keane and Liam Manning added 10 points each. The loss drops the JV team to 7-9 on the season.
The win improves the Hornets' record to 16-2 overall and 13-0 in the NTL Large School Division while the Tigers fall to 12-6 (10-2 NTL Large School Division). The Hornets are back in action on Tuesday, February 5 against Towanda for Senior Night.