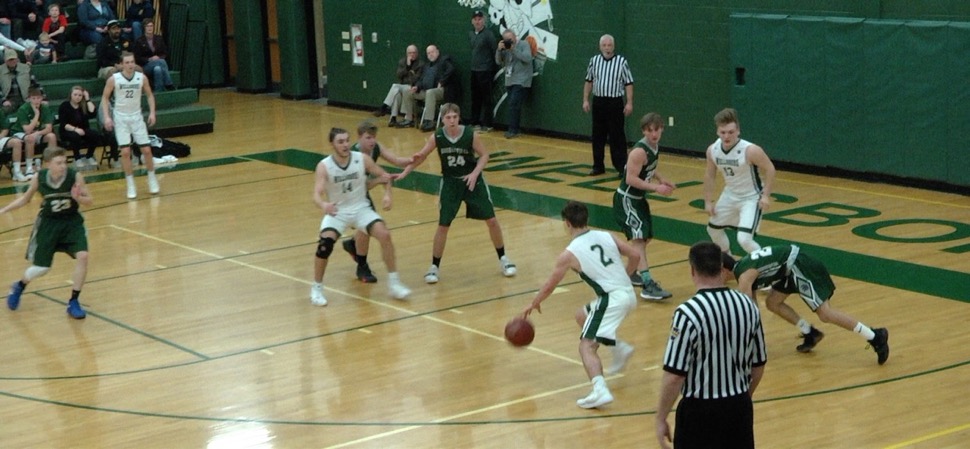 Hornets advance to D4 semis with win over Hughesville
By: Ed Weaver | NTL Sports | February 22, 2019 | Photo courtesy The Home Page Network
The Wellsboro Varsity Boys Basketball team is heading back to the District IV Class AAA semi-finals after beating Hughesville 58-27 on Thursday, February 21.
After the opening minute where the Spartans took three shots and grabbed two offensive rebounds, but after that the Hornets went right to work with 7 quick points, sparked by senior Tanner Button. Wellsboro led 18-5 after the first quarter, but then struggled in the second.
The Spartans outscored Wellsboro 9-7 in the final 8 minutes of the first half, all on three-point shots, but still trailed 25-14 at halftime.
From there, Wellsboro turned up the defensive pressure and forced the Spartans to turn the ball over. Those turnovers led to 14 Hornet points in the third with Wellsboro extending their lead to 20, 39-19, through three quarters of play.
"I think the pressure started to get to them a little bit," said head coach Todd Outman. "I thought we did a good job the first half but the second we created a few more turnovers. We didn't make the amount of layups I wish we would've made. Overall it was a good win for the kids."
Wellsboro went on to outscore Hughesville 19-8 in the fourth to advance back to the semi-finals.
Wellsboro was balanced scoring on the evening as four Hornets had 10 points or more and five Hornets scored 9 points or more. Seniors Brandyn Tuttle and Andrew Brelo and sophomore Joseph Grab all had 11 points while Button scored 10 and senior Holden Kennedy added 9 points off the bench. Junior Andrew Larson pitched in with 4 points and senior Hunter Brown rounded out the scoring with 2 points.
Tuttle had a double-double with 10 rebounds, 5 assists, and 3 blocks. Grab finished with 7 rebounds, 2 assists, and 2 steals; Button grabbed 4 rebounds and had 3 steals; and Kennedy, Brown, and Brelo each had 3 rebounds. Brelo also added 3 steals.
Clayton Poust led Hughesville with 13 points.
The win improves the Hornets' to 22-3 overall on the season and a perfect 11-0 at home. Next up for Wellsboro is a matchup with #3 Mount Carmel next week at a date, time, and location to be determind.
"They're good. We have our work cut out for us," Outman said of the Red Tornadoes. "We're capable but we have to show up and play to the best of our ability. We'll be alright if we can do that, if we don't it will be a short night."