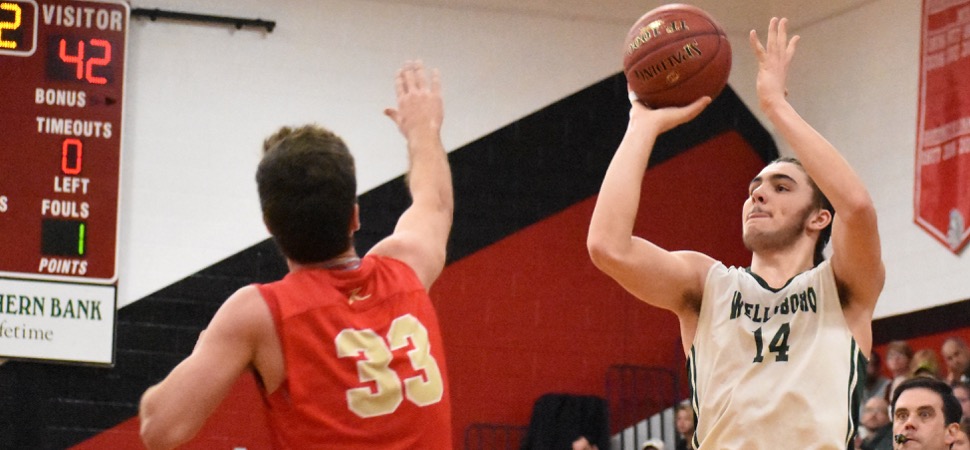 Hornets 4th quarter rally falls short against Holy Redeemer
By: Ed Weaver | NTL Sports | March 10, 2019 | Photo courtesy Brian Fees
A furious 4th quarter rally by the Wellsboro Boys Basketball team came up short in a 46-42 loss against Holy Redeemer at Troy High School in the opening round of the PIAA State playoffs.
After being shutout in the third quarter and trailing 32-23, the Hornets fell behind as much as 11 before they started making their run. Behind seniors' Brandyn Tuttle (14) and Andrew Brelo (5) Wellsboro chipped away Redeemer's lead down to 3 points with under 20 seconds to go. Redeemer drew a late foul to go to the line to shoot two foul shots and hit 1-of-2 to make it a 4 points lead. Wellsboro had one final look at the basket but the shot failed to connect, ending the Hornets' season.
"We got hot and made it close but it all goes back to the third quarter," coach Todd Outman said following the loss. "We just had a really bad quarter but we didn't give up and kept plugging away. Brandyn got hot in the quarter then Brelo hit another long three for us, so they kept clawing and gave ourselves a chance but there just wasn't enough time left on the clock."
Early on the Hornets struggled inside with Redeemer's height and trailed by as much as 7 until the finished the quarter trailing 12-8. The Hornets then heated up from behind the three-point line in the second, connecting on 4 long balls, to tie the game up and then take a 3-point, 23-20, lead heading into the locker room.
The Hornets were unable to recover from the 12-0 run Holy Redeemer went on in the third quarter to pull out the win.
Tuttle led all scorers with 18 points, 14 of which came in the fourth quarter, and pulled down 15 rebounds for his 19th double-double of the season. Brelo finished with 8 points, senior Holden Kennedy added 6 points off the bench, sophomore Joseph Grab and senior Hunter Brown scored 3 points each, and senior Tanner Button and junior Andrew Larson chipped in 2 points each.
The loss ends the Hornets' season with a record of 23-5 (16-0 NTL Large School Division) and ends the careers of Tuttle, Brelo, Button, Brown, Kennedy, and and Cam Tennis.
"They just did a fantastic job this year and I wish them well," Outman said of his seniors. "I didn't start the year out in this position and they accepted me when I had the opportunity to come back in and do it, and I really appreciate that. They're a great bunch of guys."