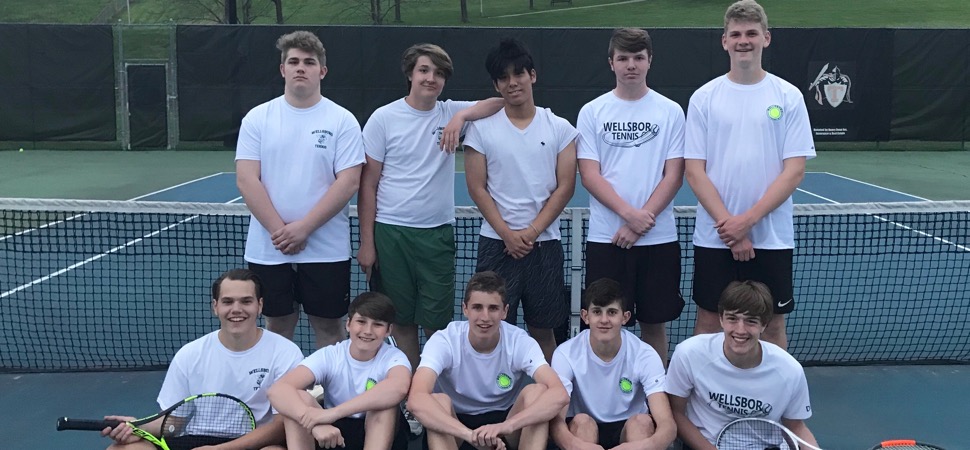 Hornet Tennis tops Towanda to win NTL Championship
By: Ed Weaver | NTL Sports | April 26, 2019 | Photo courtesy Maureen Poirier
The Wellsboro Boys Tennis team won their second straight NTL championship on the road in Towanda on Thursday, April 25.
The Hornets went a perfect 6-0 for the second straight year on their way to the league title.
"The team set out to win the NTL tonight, and they achieved their pre-season goal by winning the first four matches off the court," head coach Margery Hoffman said. "The other points followed. They showed focus and determination throughout the games."
Singles Results
Nate Redell def. Ryan Risch 6-3, 6-3
Will Poirier def. Noah Poll 6-3, 6-2
Ethan Ryan def. Django Yrigollen 4-6, 6-0, 6-3
Luke Leach def. Jayden Wise 6-0, 6-4
Dustin Benedict def. Tim Morrison def 6-2, 6-3
Doubles Results
Poll/Wise def. Leach/Zach Singer 7-5, 6-7 (4-7), 1-0 (10-6)
Joseph Doty/Justin Wilcox def. Dominic Tavani/Grady Dibble 6-4, 6-2
The win improves the Hornets' record to 11-1 (6-0 NTL). The team is back in action for their final regular season match at Addison on Monday, April 29.