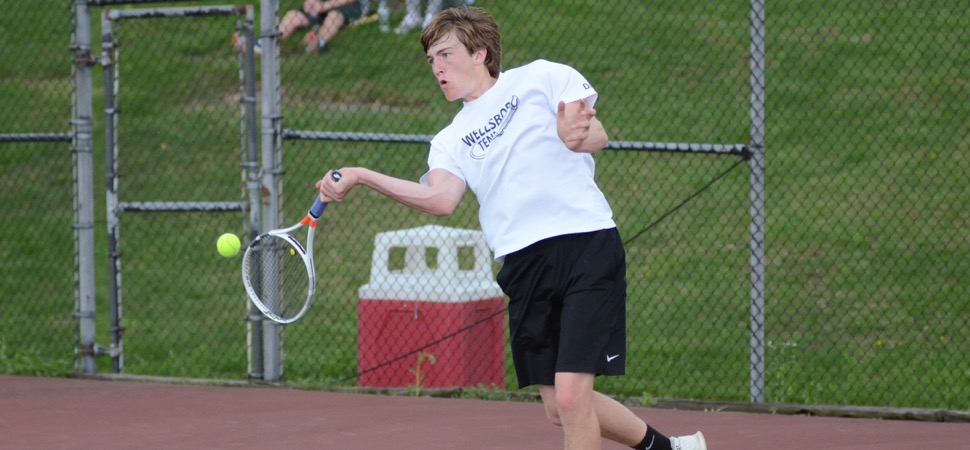 Hornet Tennis falls to Lewisburg in D4 semi-finals
By: Ed Weaver | NTL Sports | May 8, 2019 | Photo courtesy Brett R. Crossley
The Wellsboro Boys Tennis team concluded their team season in the PIAA District IV AA semi-finals in a 3-1 loss to Lewisburg on Tuesday, May 7.
Singles Results
Nate Redell (W) def. Zach Higgins 6-1, 6-1
Cole Temple (L) def. Will Poirier 6-4, 6-7 (5-7), 6-3
Sawyer Fisher (L) vs. Ethan Ryan 6-3, 3-6 (pulled)
Doubles Results
David Han/Cole Casimir (L) def. Luke Leach/Zach Singer 7-5, 6-2
Chen Chen Gu/Josh Nichols (L) def. Dustin Benedict/Joseph Doty 6-2, 6-4
"I was very pleased with our performance tonight over a more experienced team," head coach Margery Hoffman said. "It is exciting to see these fine young men competing so competitively in the later stages of the District IV tournament. Three of the seven players on our district tournament team were completing their first season of play. Next year looks like it could be another good one for the Hornets.
"Nate Redell, playing in his last singles match of his high school career, won easily at first singles," Hoffman continued. "Our doubles teams never gained traction, each losing in two sets. Lewisburg's victory came down to claiming one of the final third sets of second and third singles, when their second singles player prevailed to win his third set with brilliant passing shots and accurate lobs."
The NTL Champion Hornets finish their team season with a 13-2 (6-0 NTL) record.