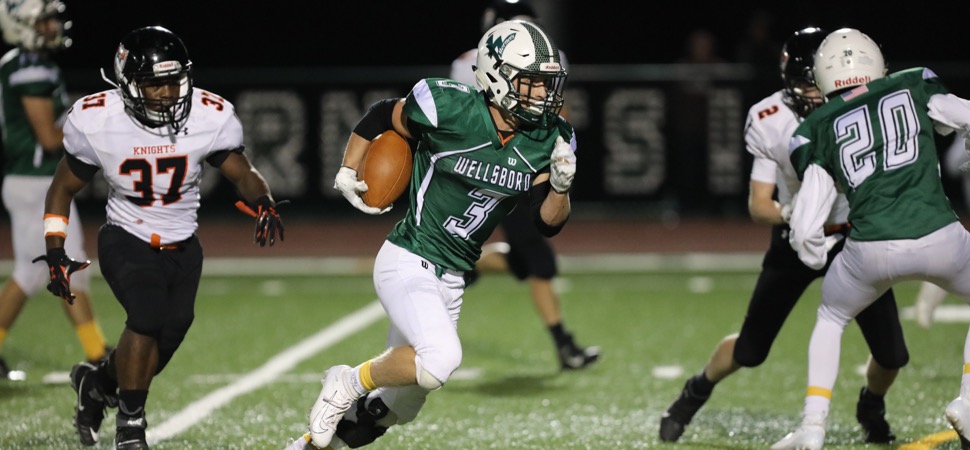 Hauser breaks rushing record in Hornets' 54-12 win against Towanda
By: Ed Weaver | NTL Sports | September 14, 2019 | Photo courtesy Dr. Robert Bair
Senior Aidan Hauser set a new all-time Wellsboro rushing record as the Hornets defeated Towanda 54-12 on Friday, September 13.
Hauser rushed for 156 yards in the first half then, on a 39-yard run in the third quarter, he became Wellsboro's all-time leading rusher, surpassing Quinn Henry (3,448 yards), as he put up 237 yards on 20 carries to go along with 3 touchdowns.
Hauser has now rushed for 3,502 yards on 403 carries (8.68 avg) for his career. Through four games, only Derek Harsch (1,021) has more yards than Hauser (872).
"It's crazy, I don't think four years ago I'd get here with this moment with all my brothers," Hauser said. "I can't thank everybody on the team enough and my linemen all night, I couldn't do it without them."
"For him to get the rushing record, and look at the guys he passed tonight with the Russ Manney's, the Derek Harsch's, the Jermain Brooks', there's a lot of good running backs from this program," said Wellsboro head coach Matt Hildebrand following his 60th career win. "To break the career rushing record in only week four of your senior season, and to do it coming off an ACL injury where you don't know what's going to happen with an injury like that, we're really excited for where's he's at and what he's done."
After forcing a Towanda punt early on Wellsboro started off the night with a 25-yard field goal by junior Zach Singer to put the Hornets up 3-0. Wellsboro held that lead until 51 seconds into the second quarter as sophomore Darryn Callahan intercepted a Tanner Kunkle pass and returned it 88 yards for a touchdown to make it a 9-0 lead.
Midway through the quarter broke free from 34 yards out, and sophomore Isaac Keane ran in the two-point conversion to put the Hornets up 17-0 wth 6:34 left to go in the half. Towanda later erased the shutout wtih 2:10 left in the half as Kunkle rushed in from 8 yards out. The two-point conversion failed, and Wellsboro led 17-6.
The Hornets struck before the first half ended as Keane found senior Logan Henry on a 12-yard pass with 17 seconds left before halftime to put Wellsboro up 24-6 after Singer's kick.
With 9:39 remaining in the third quarter on a 39-yard run Hauser broke Henry's record, and after a Black Knight touchdown, he rushed for another 14-yard score to put Wellsboro up 38-12.
Over the final 12 minutes the the Hornets added three more scores. With 10:48 to play Keane scored on a 7-yard run, freshman Conner Adams scored from 4 yards out with 6:59 to go, and freshman Jack Poirier made a 27-yard field goal with 8 seconds left for the Hornets' final score, capping their 54-12 win.
Keane finished 4-for-9 for 31 yards through the air with a touchdown and interception, with completions to senior Silas Wagaman (2 catches for 17 yards), Hauser (1 catch for 2 yards), and Henry (1 catch for 12 yards). Senior Alex Burrell gained 65 yards on 4 carries, Keane picked up 37 yards on 6 tries, Wagaman ran twice for 31 yards, and Callahan had 29 yards on 3 attempts.
Defensively senior Tyler Hancock had 9 tackles, senior Carson Davis had 7 tackles, Wagaman, sophomore Wayne Shirley, and Burrell all had 5 tackles, and senior Clayton Orsborn made 4 tackles.
Next up for Wellsboro (3-1, 3-1 NTL Large School Division) is a non-league game on the road against Hughesville next Friday night.
"Anytime you go and play a PHAC opponent they are going to bring the physicality and we need to match that," Hildebrand concluded. "A lot of times it becomes a respect thing where you have to go down there and earn some respect because that isn't always the case every year when you play a non-league opponent, so it's exciting to go play an opponent you don't get to see on a regular basis."